Mangrove Bay Eco Camp – Reassurance that life is beautiful
Hey guys, I am Sharanya from Chennai. I have a rock-solid supportive husband, Abishek, and a beautiful 5-year-old daughter, Niharika. When my daughter was just 1 year old, I lost vision in my left eye and after a series of tests, I got diagnosed with an autoimmune disorder called Multiple Sclerosis. Life suddenly looked doomed but luckily with the help of eminent doctors and a very caring family – my husband, mother-in-law, dad, brother, aunts, uncles, and sisters, I got my eyesight back and was soon on the road towards recovery.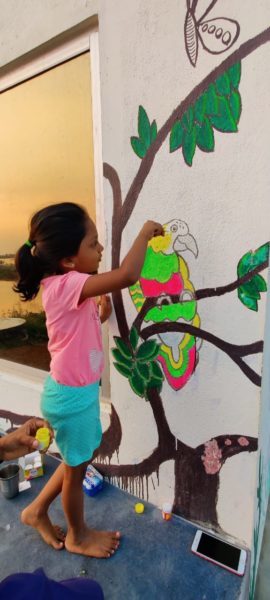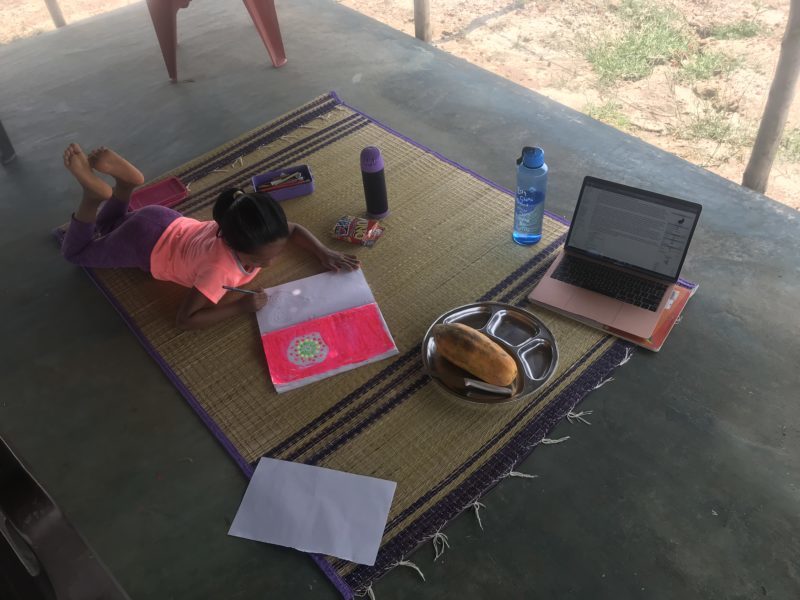 One year later, when life was getting back to normal, we participated in an outdoor event called 'Stand Up Paddling' in Lake Shakti in the suburbs of Chennai – where we met Kumaran Mahalingam, the founder of Paddle For Future, for the first time. His positive energy towards life and his love for nature and work towards reclaiming water bodies were very inspiring and outstanding. For one full year, When my mind was filled with scary thoughts like 'What if I lose my eyesight again? How will I take care of my little daughter? Will I get back to my happy life again?', paddling on Lake Shakthi was a meditative experience. I felt calm and peaceful within myself after a very long time. Stand Up Paddling at Lake Shakthi was a magical event and a life changer for me – I started to slowly go back to my optimistic self.
Abishek and I are nature lovers and enjoyed the outdoors. Abishek was a junior national level rifling champion, a certified paraglider and I joined him in his quest towards trying to lead an environment-friendly, sustainable, and simple life. We also did an 'Open water Scuba diving' certification course from PADI during our honeymoon trip to the beautiful Kavaratti islands of Lakshadweep. We were always looking to find a balance between our urban life in Chennai and sustainable natural life.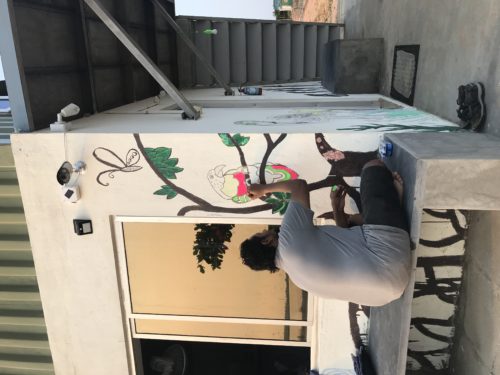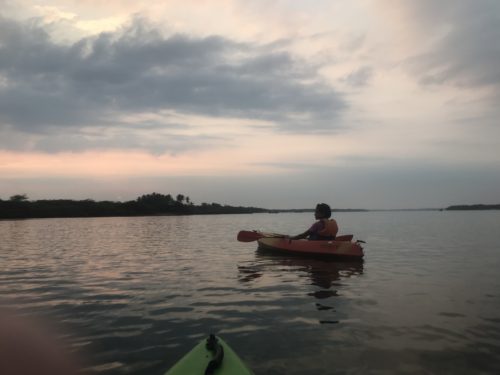 We also run a small IT company called The Byte Story where we develop websites and web applications and work on all aspects of visual branding. We got reconnected with PFF when Kumaran got in touch with us a few months later to develop a website for PFF.
Then Abishek had a few rounds of talks with Kumaran, a professional geologist and life took a new direction. Kumaran's ideologies and aim towards saving water bodies, giving experiential learning through paddling, educating school kids on geology and nature attracted us.
We wanted to know if we could partner up with him to reach this common goal together. He gracefully agreed and gave us a wonderful opportunity to learn from him. Kumaran had already built a great community of fellow nature lovers who learn from each other. He had visited 100 schools and educated close to 4000 school kids about geology and natural resources and how they could play a role in inculcating sustainability in their daily lives.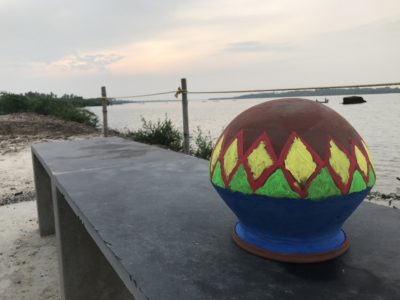 Dr. Abishek Vandayar, a nature lover who had also participated in a stand up paddling event organized by Kumaran partnered up with PFF. He and his family gracefully offered their beautiful property adjoining the serene backwaters of Kollidam river, Chidambaram. Mangrove Bay Camp was born here and the rest is history.
PFF expanded and had many operations – Mangrove Bay Camp at Chidambaram, Weekend SUP events at Chennai (Sri Perumadhur) , World wide expeditions to explore natural water bodies and school visits. After a few months, Abishek and I took care of the events at Chennai while Mangrove Bay camp was slowly and beautifully getting nurtured by Kumaran and Dr. Abishek and team. Abi, Niharika and I went to Mangrove bay camp whenever possible to help kumaran and also to have fun.
During lockdown 1.0 in March 2020, Kumaran and family were in Mangrove Bay Camp for 100 days. They spent endless hours working towards the camp's infrastructure, planting trees and expedition. Kumaran's mother who is an exceptional human being and a great care taker took care of her family and guests who were locked down in their new home (camp) with a fully equipped kitchen. Kumaran's son, Shakthi had a fun time with his father during the 100 days.
6 months of lock down since march and the fear of Corona had taken the entire world to a new dimension. Negative emotions, fear of losing loved ones, stories of friends and family affected by corona, protecting little ones and elderly from getting affected, not knowing if we should or should not wear the mask, businesses closing down, big companies giving IP, friends and family losing jobs, – filled everyone's days and lives.
Our Mangrove bay camp opened up in September 2020 during Unlock 1.0 and we had people coming from Chennai both on week days and weekends. We were very tempted to go to our camp but Since we have a little daughter, we were reluctant to travel initially. Since the camp was in a remote location and we followed all safety measures, we took the bold decision to travel.
Abi, Niharika and I went to Mangrove bay camp last week. Kumaran and family were already in the camp. And We had the privilege to join them.
The moment we landed at the camp, I experienced the same calm and peace that I felt at Lake Shakthi 4 years back. We have visited the camp many times but this time was different because it was a whole new trajectory after the lockdown.
After getting tested for temperature, we dropped our luggage in our room maintained by our efficient PFF team – Meeran and Veera. Meeran is our camp manager who is also a certified paddler. He takes participants for kayaking and manages all aspects of hospitalization. Veera is our 'all-in-all-azhagu-raja' care taker.
At PFF, We try to be as sustainable as possible. The camp is completely off the grid and is powered by solar energy. Rooms are reused shipping containers. The bathrooms are huge for a camping site. Rain water harvesting stores all the rain water within the campus. We use stainless steel plates and glasses for dining and try to minimize usage of plastic.
We did a lot of fun activities at the camp. One should experience Sun rise and sun set kayaking at this place. The feeling cannot be expressed in words. My eyes were drenched when I witnessed sunrise there. We swam with our safety jackets – in the shallow water by the coast every evening during sunset. Most days ended with interesting and fun conversations with participants over campfire. Dr. Abi brought his Isuzu and gave us a dune ride on the beach sands. His mom, dad, brother and wife pampered us with home made sweets and snacks and unconditional love as usual.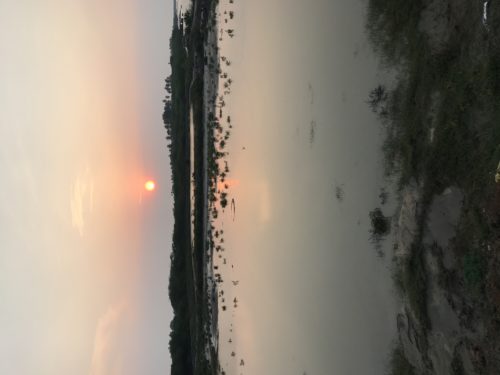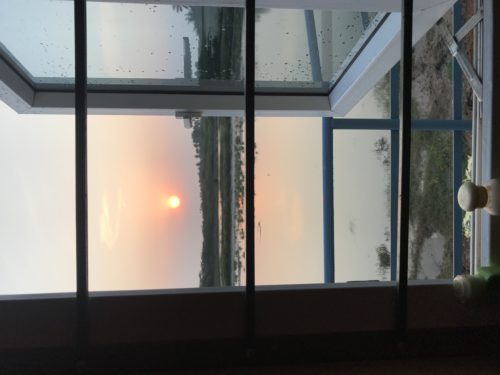 Throughout the week, We did a lot of fun activities like Pot Painting, Zentangles, Uno cards, Pallankuzhi, dancing, singing and much more. Birds at Mangrove Bay camp were mind blowing. Bird watching was fun – we spotted Kingfishers, wag tails, peacocks and many exotic species and were trying to find their names. Niharika even named a few birds as we saw them everyday. We went to Thillai Natarajar temple one day and were awestruck by the magnanimity of the sthalas. We learnt that this was the only temple that had both Lord Shiva and Lord Vishnu shrines.
The small hut by the water was our abode during day time. Niharika did here online schooling. Abi and I had uninterrupted client meetings with the amazing 4G connection.
We got back to Chennai after re-establishing our connection with nature and with a reassurance that life is beautiful indeed!