Fighting fears on a paddle board – River Godavari SUP Expedition
The fire in your spirit finds its feet, funnily enough in the ferocity of a flowing river.
 It began almost a decade ago, where my profession as a Geologist threw at me the magical opportunity of droning over the magnificent river Godavari for my oil and gas exploration drilling campaigns several times.
My profession and my passion for stand up paddle, I believe, is like tomato and basil– a match made in heaven- as though the only purpose of one is to complement the other.
 I wanted to return to Godavari wearing a different hat this time- one that is of exploring and experiencing. This is the story of how I discovered a stretch of Godavari that is fit for stand-up paddling, a water sport which involves propelling a surfboard with paddle, while kneeling or standing. More than that, it is a story of grit, and an unrelenting attempt to get closer to nature.
 I recall one of my holidays to Papi hills, located on a section of the Godavari River in the East Godavari district of Andhra Pradesh, where the river flows cut down the length of the Eastern Ghats. It gushes out after a long journey through the narrow gap between the mountains. A sight to behold! I had gone on a 50 kilometer-long boat safari from Polavaram to Kolluru on the other side, and bamboo huts were our abode during this trip. I also remember visiting a Perantapalli Ashramam and Temple.
I always longed for a change of rhythm, it is quite refreshing. Recalling an Arabic proverb that loosely translates to 'The light falls only on the stranger' – hit me hard from time to time- you know that imbecilic reality hammering you back home- yeah that. Paddling my way through waters across India, Srilanka, Malaysia – snorkeling my way through a couple of records in the Limca book of records, being fiercely engaged in conservation of water bodies around home and promoting water sports- I brought my senses back to a river that stretches farther than my dreams- the Mighty Godavari – how could I? Damn! It had been so close to home yet so far from my scheme of things.
 Through my research, I knew that there are a vast number of unexplored water bodies in Andhra which include numerous vast lakes, perennial rivers, estuaries and a continuous coastline which runs more than a 1,000 kilometers. These also include an abundance of rare fauna and flora. While I had holidayed at this part, it only later struck me that part of river Godavari in Papi hills could be perfect for flat water sports like stand-up paddling, paddle boarding and kayaking. And since there is enough availability of tourist infrastructure and resources, and perennial water flow throughout the year, it could be a hotspot for water sports in India, not to mention a new source of revenue for the local fishermen as well.
I was wishing for Godavari to enrich me…
 Enrich you? Don't be ridiculous kumara… I shall destroy you and put all your broken pieces together- all at once, she seemed to say.
Google was my first resort to see what historical data there was about Paddling in Godavari which by the way is the second longest river in India stretching between Bhadrachalam, an important Hindu pilgrimage town in Telangana, and Rajahmundry, a beautiful city located in Andhra Pradesh. The results were near zilch which sky rocketed my adrenaline- because as the cliché goes- there is something seductive about the road less traversed. Made some calls, sought some permissions.
 She was deep as a dark sky and flat as silence. Strong currents like deep desire- but no massive whirlpools and that is a solace.
 So I packed my bags and took a flight from Delhi to Hyderabad, and from Hyderabad to Rajahmundry. On my first flight, I was a little worried because there were updates of heavy rainfall in Maharashtra and Telangana. And both these being watershed areas, all the water was going to aggressively flow into the area above Bhadrachalam, where I had planned to take my paddle board the following day.
She manifested before my eyes while I was still in the air. Boy what a sight she was! More than 50 Km stretch of brown mineral rich prolific waters…she was both a frightening and a humbling sight. She moved me and I was certain she wasn't going to be an experience I would dare forget in a hurry.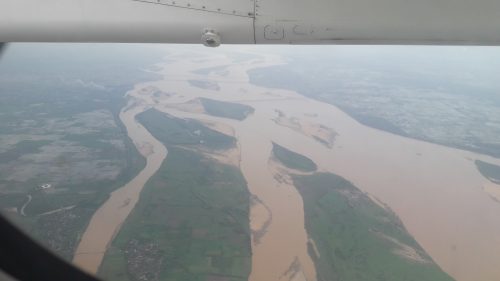 What you seek they say is seeking you! What are the odds right?- I settle in my room at River bay, by the banks of Godavari and stumble upon its General Manager, who to my utter surprise was glancing through information on surfing while we knocked at his door. The team had just embarked in an endeavor to promote water sports, but just did not know where to start. I could not have asked for a better time to meet them, and a better team to support my venture. Everything was beginning to make sense. Or so I believed. The universe has mystical ways of being the party planner, if you will. One heck of a party this was going to be.
A small boat was to ferry me upstream. My crew : A Geologist and a fisherman both my friends. The former had a degree and the latter valuable experience.
Once we reached, I took out my paddle board, and inflated it. I wore my safety gear and ventured into the water. In no time, I was 400 meters inside; and I knew I had convinced my audience that I was a professional at this. I was a little scared paddling on the stretch, mainly because of the water flow, and also because there were a few regions where sand mining was on. Then there are trees and plants enroute, which can be a threat. It was a 50-minute session, three kilometers up and down. Convinced that we can go ahead, I retired to bed in anticipation of the next day.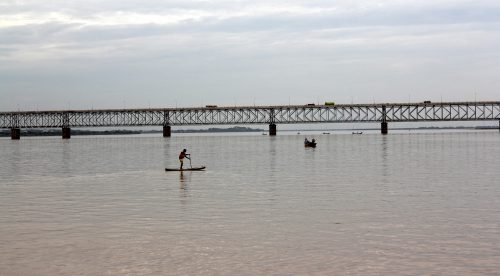 I got a boat from the one of the local fishermen for Rs.7,000 to go upstream. Everything was set. The plan was to start at 7 a.m. When it comes to geologists, every project occurs at military precision.On that particular day, however, nobody turned up at 7 a.m. Instead I got a call from the fisherman telling me that the boat was stuck in clay. The water level had gone down the previous night, and it was difficult for them to move the boat into the water. The water body is unpredictable, since the depth, to a large extent, also depends on the amount of water released from the dams.
Meanwhile, we had to find another option. One of the fishermen offered to bring his boat for Rs. 3,500. We filled extra diesel and started at 8.30 a.m. On the way upstream, I made note of four bridges, each of which act like dams. Around these, there are chances that whirlpools might form. And in case of whirlpools, the debris act like weapon, and are capable of slicing the boat into two. We finally reached Pattiseema, which is famous for Veerabhadra Swamy Temple. I was to start my journey back to Rajahmundry from here. Those who had come with me went to worship the deity; for me, I was worshipping Godavari. Nature is my spirituality.
 Our day began at 12 the following day. A river has three parts: Drainage basin, river channel and outlet. The river channel is used for transport and is not that turbulent. I decided to take thalweg line. The force of water gave me the momentum I needed. In few minutes, I crossed 1 kilometer. Then I saw the first bridge. It was a gas pipeline bridge. I had the technical knowledge that if I went too close to the bridge pillar, I would suffer the turbulence. So I had to strategically align my paddle such that I would slide right through the center of the two pillars. Of course, I had a binocular, using which I would see if there was a sharp log ejecting out of the water, or any other threat. Remember the thing I said about Tomato and Basil?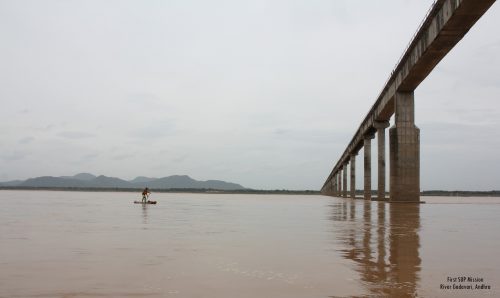 Language is a funny thing of convenience. During my journey the sophistication of all the languages I knew were to retire. I raise my paddle to scream 'danger' to my friends who were accompanying my mission in the boat. Raising my left hand would mean 'take a picture' and raising my right hand would mean 'Record'- huh the simplicities of complex lives…I know right!
 Godavari was becoming generous and getting wider by the minute- a little like life itself. Meandering on her left and still on her right- a little like the wandering mind. On my way upstream, I had marked five landmarks.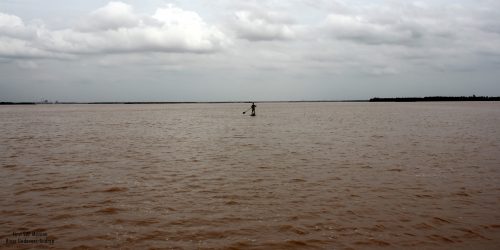 In any expedition, you have to make note of landmarks to keep yourself on track. I had also tracked the route on GPS, and checked from moment to moment whether the path which I was taking was matching my tracked route- occupational hazards of a geologist I say!
 Just when I thought the risky part was over, there came a violent gush of wind. I was tired by the 15th kilometre and had to hold on tight to not get thrown into the water. Five kilometers down the river widened to an extent that it almost looked like an ocean. I reached a point, where the river diverted into four. I knew I was closer to a massive sand bar, almost as big as an island. It is called the Buffalo Island. That was the landmark that helped me choose the route. I was able to see the chimneys of factory through my binoculars 15 kilometers ahead. I was going to reach Rajahmundry!
 This is about time when I was going to learn an exquisite lesson of how option kills grit.
 I heard a massive thunder- the kinds that could tear the sky apart, the kinds that rocked the earth (water in this case?) beneath your feet. Muddy red waters and the sky above me was beginning to turn grey, a streak of lightening on the open sky ahead quipping at me, 'Are you out of your minds?'…Rains were imminent – it was monsoons afterall.
 If nature brought me to this she might as well take me through this. It is only fair right? I asked her to be kind to me. I felt droplets on my hand that was ready to give up – either my soul was crying raindrops or  the sky was sending me a liquid message. Whatever was the case, I had to hurry.
 Oh wait! There was an option- like we always do – the great escapist option to 'give up'. It was so much easier and needed so less. Quite a temptress this 'give up'. All I had to do was raise my paddle (the danger sign) and hop on to the boat and sail away merrily like a grand loser.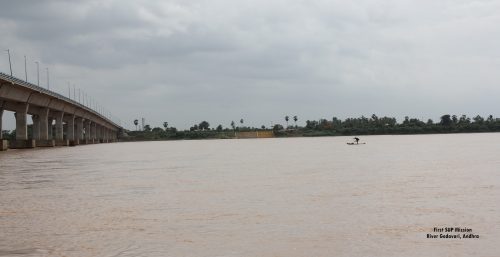 My option was to fight, find a way and move. And move forward I did.
Let me overwhelm you a little more. 31 Kilometers of this episode and I realize that Nature had given me an eight hour safe window to complete my expedition. I couldn't have gone the previous day because the depth was not enough, and I couldn't have gone the next. A tear or two rolled down my eyes, it smelt of a combination of adrenaline gush, humility, triumph, intense surrender to unfathomable powers. Trembling from my core, I proclaim the stretch between Bhadrachalam and Rajahmundry safe for stand up paddling – top of a paddle is top of my world.
 Liberation is powerful.