PaddleBoarding – In chennai's lost and found lakes
Why this exploration ?
Since my childhood, whenever i cross the outer limits of chennai city during my summer vacation trips  down south of tamil nadu, i being amazed by the chain of discontinuous hill and hillocks, vast perennial and non perennial lakes, dry river later in my college days i got to know that these rock masses are eastern ghats which formed 2 billion years ago and dry river is palar, which was a perennial river in geological past. Since then i want to explore these backyard of chennai and it taken two decades for me to explore these pristine places.
When i believed this Hawaii origin sport going to be great outdoor  activity in India.  In the early 2015, I began the survey of water bodies suitable for open and flat paddle boarding. Prior to the survey, detailed plan has been prepared and several prospects being listed.
It would be a genuine and pleasant surprise to discover how soon Paddle boarding can go from a laid back activity to an active adventure sport within minutes. This is one among the several reasons which I have listed below in why I firmly believe that SUP (Standup Paddling) and Paddleboarding will soon become the most sought after adventure sport in India.
The vast number of unexplored water bodies in India which include numerous vast Lakes, Perennial Rivers, Estuaries and a Coastline of more than 7500 kms. These also include an abundance of rare, diverse fauna and flora and have easy accessibility to most of them.
A wide variety of contrasting geographies within the country ranging from Glacial to warm Tropical waters.
An increasing number of adventure sport lovers in India.
SUP as an adventure sport also enhances and compliments other interests in Photography, Wildlife Tourism, and SUP Yoga.
Paddle boarding is a natural stress buster. The gentle rhythm in which you paddle and your fluid movement on the water just melts your stress away.
Why LAT 12 40 lake is my favorite SUP destination?
In 2015 alone, I have completed 12 SUP survey missions along with our Bay of Life team and have identified 10 new, pristine water bodies that are ideal of paddle boarding. Though there are famous water bodies like Dal Lake – Kashmir, rivers near Puri, Orissa, the pristine unexplored lakes in the vicinity of Chennai city are my favorites. I felt complete satisfaction when I completed paddling in these lakes.
The planning done in identifying unpolluted water bodies and marking them as an ideal SUP destination is done only after completing the following factors:
Permission to paddle [If Required]
Resource planning & Logistics
The beauty of the surrounding scenery and the friendliness of the locals
Identifying naturally existing threats and planning safeguards against them
Paddling in different weather conditions to understand the ease
Detailed documentation including HD quality photographs, video clips and track records
Post survey of these factors we do a detailed documentation to understand whether it is a viable destination.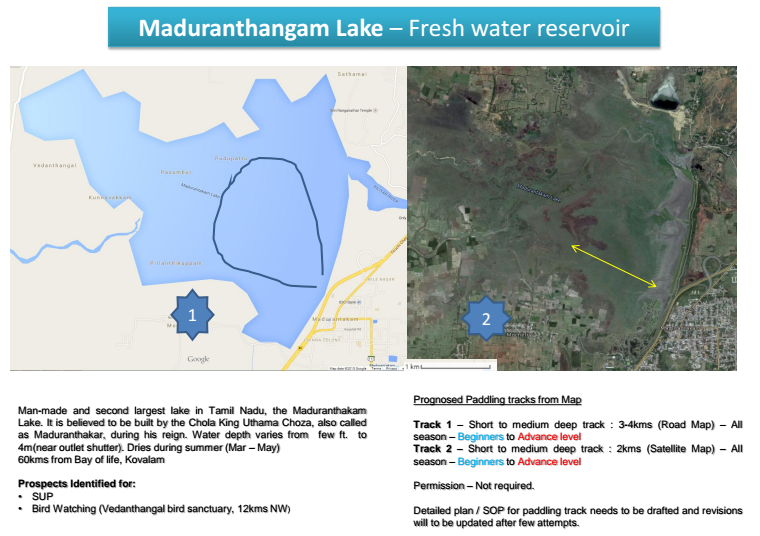 On 10th of Dec 2015, just after a week after the historic deluge in Chennai, I set out with Selvam – Senior instructor and Ajith – Surf Instructor, from Bay of Life base, Kovalam, Chennai towards the nearby lake in my SUV with three paddle boards.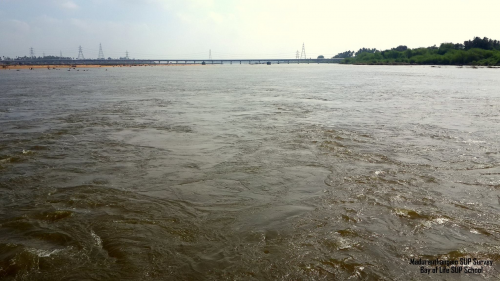 Keeping our final destination as Lake Maduranthangam, instead of taking an easy route through NH45 / GST Road, I took the road less travelled route through the villages of – Melavalampettai – Thirukalukundram in order to explore and witness the beauty of remote village landscapes.
Due to the recent bountiful rain, we witnessed the landscape in which we travelled, had blossomed into a lush and verdant plain. As we crossed the Palar River near Vallipuram the excited crew discovered that Palar had had reclaimed its natural course as once it existed as a great river before it became a shadow of its old self through a combination of natural events.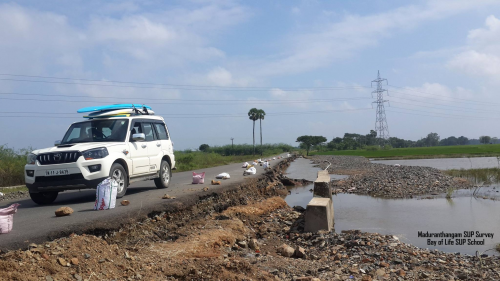 Now fed by the unexpected torrential rains it flowed to its mighty capacity once again after long period of dryness. I felt incredibly lucky to witness this natural event again and wanted to spend some time in the bridge.
Selvam became excited as usual and wanted to jump right in. But we recognized the challenges posed by the gushing current of the River, and wisely decided not to test its strength.
We got our first glimpse of the lake on NH 45 after crossing Maduranthagam town. The lake is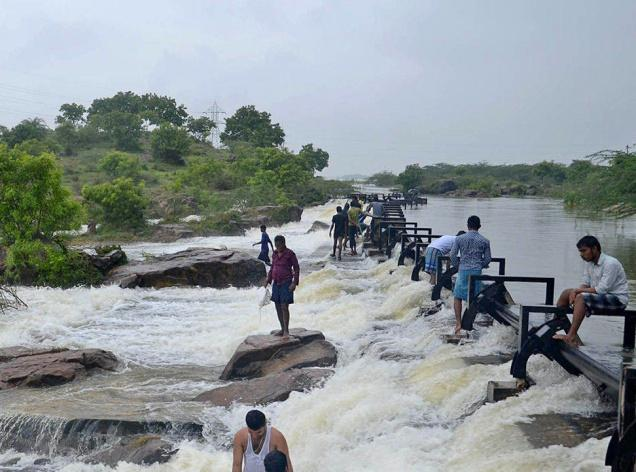 believed to be built by the great Chola king Maduranthakar. The reservoir is used in irrigating more than 1000 Villages in the region. In the distance we could see the overflowing water above the Sluice gates. With the heavy rains filling the lake, people have been flocking to get a glimpse of this vast lake and it quickly turned into a picnic spot for locals.
We reached Mocherry colony which is situated to the south of this mighty lake. We paddled from Mocherry colony end towards the Sluice gates which was located on the North side of the lake.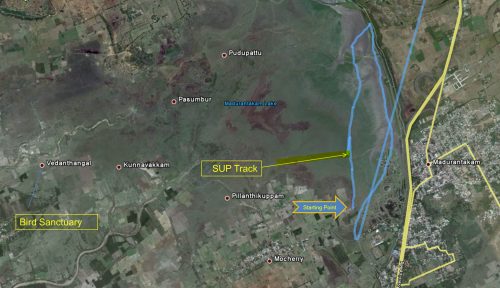 Much to our chagrin, we found out that we were paddling against strong winds of more than 15 knots, and waves of more than 0.75 meters. One can surf these waves during difficult conditions. At first, we paddled on our knees and covered over 3 kms. When we reached the center of the lake where the depth is more than 20 feet, we finally encountered a calm surface.
Within a few minutes, we stood up and paddled and raced towards our target, the Sluice gates. Approximately 300 to 400 meters before the Sluice gates, we heard the thundering sound of overflowing water. The view from the paddle board was great and soon enough, we felt that we were being dragged by the current towards the overflowing Sluice gates. To avoid being dragged in, we quickly turned around and paddled back to our starting point – Mocherry.
Paddling downwind was an added advantage as we reached the shore in less than 45mins.
The local kids were much excited to see the paddle boards. We took pictures with them and packed up for our next spot- Kolavai Lake.
Highlights
The tank gradually dries up during arid conditions. So most of the time the lake had enough water to paddle board throughout the year.
Well connected to Chennai city by Grand trunk road
Easy access to basic amenities such as Lodging, Fuel and Hospital.
Haven for bird lovers as this lake is one of the primary feeding grounds for migratory birds from Vedanthangal Bird Sanctuary.
Ideal spot for long distance paddling practice.
Discovery Moments – LAT 12 40 lake
After a sumptuous meal, we headed towards Chengalpattu town, a 30 minutes drive from Lake Maduranthangam towards Chennai.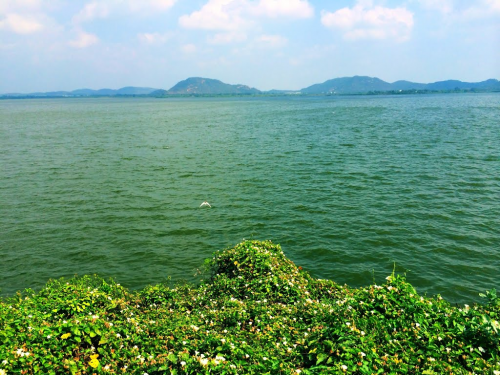 Lake Kolavai, is a perennial lake and is located in a rocky Terrain and spread across 802 hectares. It is fed by nearly 25 tanks located upstream in places such as Paranur, Hanumanthapuram and Kunnavakkam, and has a catchment area spread over 53 sq. km. Access to this perennial lake is quite tricky.  With the help of GPS we reached the west shore of the Lake. After spending 15 minutes on shore survey, we found out that the shore is invaded with thousands of Prosopis plants and also filled with garbage, making it impossible to enter the water.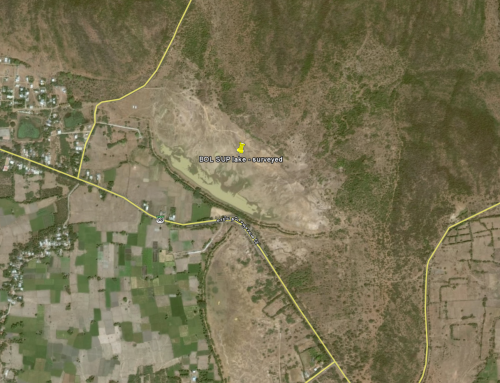 In 2013, the Water Resources Department announced a project to rejuvenate this Lake under the National Lake Conservation Plan. But there were no signs of resurrection for this dying lake. Once the local Tourism department operated a Boat Club here which had also been closed. With a heavy heart, I decided to skip paddling here for now, and decided to do it in the future, with a belief that restoration of this once beautiful Lake, will happen soon.
It was early evening when we reached our base on State Highway 58. Around 8kms before Thirukazhukundram, which is famous for its Temple, Vedagiriswarar Temple complex, also known as Kazhugu koil (Eagle temple), I spotted a 12 to 15 foot mud Levee / Embankment on the right side.
I immediately parked my car and requested Selvam to find out what was there on the other side of the Levee. With the approaching Sunset I knew that it would become darker in less than 30 minutes. Selvam swiftly climbed up the narrow Levee and within few seconds was out of sight. Soon after, we heard a long whistle in the direction Selvam went.
We got out of the car and rushed towards the source of the whistle and within a minute we were on top of the Levee. What I saw left me speechless. Out in the middle of nowhere, here lies an unpolluted lake, surrounded by the scenic magnificent 2 Billion years old Eastern Ghats.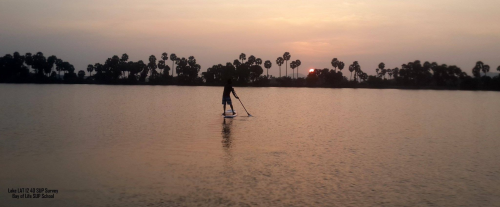 Overjoyed with our lucky discovery, we took our paddle boards and began walking towards the lake. Within 20 mins of paddling around, we were treated to one of the most beautiful Sunsets I had ever witnessed in my years of my paddling experience. We did a second session on this lake, in order to explore the Lake completely.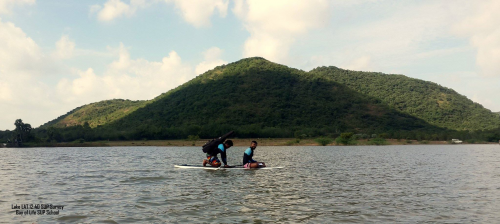 By the end of a well spent day, I was feeling ecstatic and the sense of accomplishment began settling in.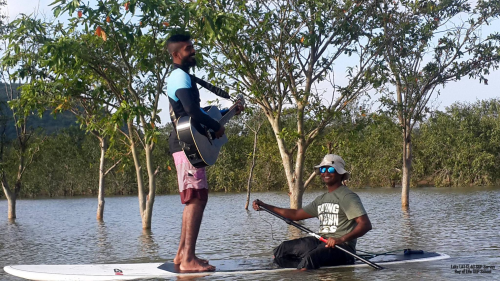 This was an unnamed Lake in the map. So we decided to christen it as "LAT 12 40" by its geographical coordinates.
Highlights
An unexplored virgin water body surrounded by a lush reserve forest.
Warm and clear water with an abundance of different species of aquatic life set in the backdrop of Western Ghats.
Ideal place for Flat water paddling, camping and nature walk
You can observe local Fauna like Deers, Civets, Porcupines, Jungle cats, a wide variety of birds and reptiles and more.
30mins to 40mins drive from our BOL base – Kovalam
Best Season to visit November to April
There are several lakes in the vicinity of Chennai. Lake LAT 12 40 is the best among them.
Expect more voyages of exploration, more discoveries and more fun from our team.
Thanks
Kumaran Mahalingam