Srilankan SUP Diary – Madu Ganga wetland – Sri Lanka
After a successful paddle survey of Dal lake – A Freshwater lake in Srinagar, Jammu and Kashmir, India. After gap of 5 days, as per my schedule I travelled 4000 kms South of the Indian Sub-continent to reach Madu Ganga, a well preserved and complex coastal wetland ecosystem.
About Madu Ganga Wetland Ecosystem and reason for SUP mission.
Here in Balapitiya lies Madu Ganga, the beautiful river that nestles alongside whispering Waters. Madu Ganga is considered as Sri Lanka's second largest wetland consisting of 32 islands including two main islands providing shelter more than 215 families.
The Madu Ganga river is a shallow water body in south-west Sri Lanka, which enters the sea at Balapitiya. Together with the smaller Randome Lake, to which it is connected by two narrow channels, it forms the Madu Ganga wetland. Its estuary and the many mangrove islets on it constitute a complex coastal wetland ecosystem. In has high ecological, biological and aesthetic significance, being home to 303 species of plants belonging to 95 families and to 248 species of vertebrate animals. Madu Ganga is possibly one of the last remaining tracts of pristine mangrove forests in Sri Lanka.
The inhabitants of its islets produce peeled cinnamon and cinnamon oil.
Over the years, Madu Ganga has played an important role in providing food and shelter and of course providing easy access to the mainland via small wooden boats. During the pre colonization period Madu Ganga was used as one of the main waterways connecting cities and ancient Sinhala Kingdoms.
The main treasure of Madu Ganga is its mangroves that act as a bio-lock to the area in giving protection to the variety of aquatic plants and animal life. They provide a home for different kinds of aquatic plants, crabs, shrimps, fish, various invertebrates and other animal life including crocodiles.
It is claimed that the main secret of the Madu Ganga is the tide. On any given day during the low tide the seawater comes inland and mixes with fresh water and in the evening, vice versa creating the magic of nature.
Equipped with all these interesting facts about this pristine wetland, I managed to contact Mr.Chamara Indika, owner of Christian Mountain Villa & ayurveda hotel and being an avid ocean paddler, gave me confidence that this is a great spot for my next paddling survey.
WHAT IT COSTS
Overall trip cost for this three day tour was approximately 850 – 950 USD / 120000 – 135000 Sri Lankan rupees which included flight trip from Delhi to Chennai and round flight trip from Chennai to Colombo, Visa cost, Prepaid sim, Motor boat rentals to accompany during SUP survey, Two nights stay, Food, drinks, Tips and Car rentals for 3 days with driver and fuel allowance.
GETTING THERE
Nearest Airport – Bandaranaike International Airport, Colombo 130 kms north of Balapitiya
Nearest Railway – Colombo Fort Railway Station, Colombo, Sri Lanka 110 kms north of Balapitiya
Easiest way to reach balapitiya from Colombo International airport is to hire or rent a car from airport itself and take Southern Expressway / E01.
http://www.tripadvisor.in/Tourism-g940979-Balapitiya_Southern_Province-Vacations.html
GEAR AND OTHER STUFF
Much to my relief, Mr.Chamara told me that a permit for paddleboarding in Madu Ganga waters is not required.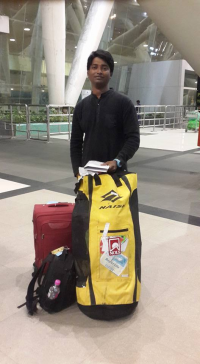 Naish – Inflatable – 10' x 33" paddle board with SUP travel   backpack, collapsible paddle ankle leash
Sports HD wifi enabled 1080P action camera kit and monopod
40L Tribord Waterproof bag
Pedometer
Samsung Note 3 smartphone with GPS tracking software and a lot of waterproofing!
Canon 60D camera with 18-55mm USM ; 10-18mm f/4.5-5.6 IS STM; 75-300 mm f/4-5.6 Telephoto lens; 8GB & 32GB memory cards in Lowpro camera bag.
Magnetic compass
Binocular Fix 6×25
Basic First aid travel kit with medicine for water borne infections
UV protection sunglass
UV protection sun cap
Boardshorts
Rain coat and cheaters
ETA visa (Indians National)
CARRYING THE BOARD IN THE AIRCRAFT
As I mentioned in my earlier travelogue (http://bayoflife.com/paddling-in-paddlers-paradise-dal-lake-india/) carrying inflatable SUP on a plane is something I'm very familiar with. Srilankan airlines is one of the surfer and paddler friendly airlines. One can check in a maximum weight of 35 kgs of check-in baggage and 7 kgs of Hand  luggage. Extra luggage will cost you 10 USD on the kilo.
 As I am travelling in first week of November to Sri Lanka, Probability of heavy rain was very likely due to the onset of retreating NE monsoon. This was proved right when I googled the weather forecast. But I have no option to reschedule my trip so I decided to travel ahead leaving my chance of paddling to luck.

DAY 1 – Christian Mountain Villa, Balapitiya – Air, Land and Water
My journey began on 6th November 2015 evening from Gurgaon, at 20:00 hrs I landed in Chennai airport. My connecting flight to colombo was at 0300 hrs on 07th November 2015. I had more than 7 hours of transit time left. And even though my house was a 20 minute drive from the airport, I decided to stay back physically and mentally prepare myself for this SUP trip. On 7th November 2015, around 0420 hrs I made it to the Colombo International airport and after 45 minutes of waiting in baggage collection area, I spotted up my SUP luggage. (Hooraay!!!) I picked it up and rushed out of the airport.
Getting out of the airport was not as easy as I thought it would be. I was first stopped by customs officials and then again by an old aged gentlemen and a couple of Sinhala women. The man spoke to me in Sinhala. Mistaking him for a taxi driver or currency exchange agent, I tried to avoid him but then he showed me his ID card. He is one of the Anti Drug officer – Narcotics wing and he is very much interested to inspect my paddle. I cooperated and followed them to the Inspection room. I explained to him that I am a geologist and paddler travelling to balapitiya for a Paddling trip. As he had no clue about paddling I decided to show a couple of articles related to me and SUP via the internet  in order to better help them identify who I am!  The earlier visa stamps, of my previous sri lankan visit, in my passport during my official trip for oil and gas exploration campaign in Gulf of Mannar worked well too.
They wished me good luck for my SUP mission. Before coming out the airport, I picked dialog prepaid card as suggested by my sri lankan friend which is much more competitive and cheaper than rest of the mobile service providers. Upon spotting my friend who was waiting with a car and driver for me. Without wasting a minute, I started my journey towards balapitiya by catching a newly chinese built Southern Expressway / EO1. Within 75 mins of drive, we reached our final destination – Christian Mountain Villa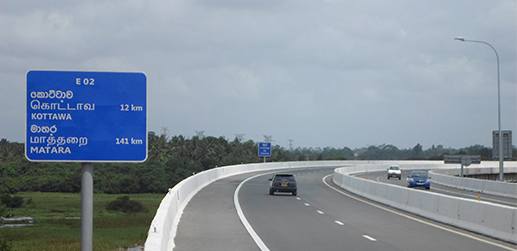 driver for me. Without wasting a minute, I started my journey towards balapitiya by catching a newly chinese built Southern Expressway / EO1. Within 75 mins of drive, we reached our final destination – Christian Mountain Villa!
18 hours of travelling from Delhi to Balapitiya would have worn out anyone, but not me. All the adrenaline of the adventure to follow, kept me active and excited.I checked into my already booked room on the second floor of christian mountain villa as per tips provided in tripadvisor website. A beautiful room with a lovely glass door that leads to a terrace awaited for me inside.
without wasting a second, I unpacked my bag and requested my driver to stay in the same room. After quick settle, I proceed to open terrace for grandeur view of Madu Ganga Estuary and Mangrove forest.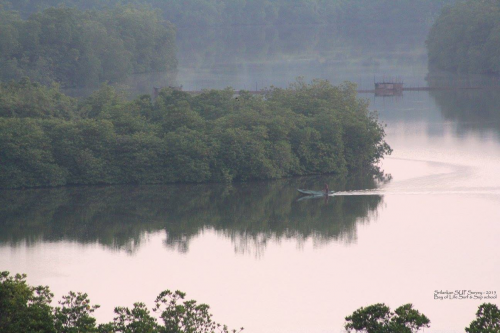 It was 9 am and patch of gloomy clouds in south of the horizon and bright sunrays from the east. I decided to drive down south for lunch and also visit hikkaduwa (well-known international destination for board-surfing & scuba diving) and Galle – administrative capital of Southern Province, Sri Lanka (Galle fort is a world heritage site). we spend one hour in galle and visited dutch fort, lighthouse and fort beachfront, international cricket stadium, then we moved to hikkawuda for lunch. Around 15:00 hrs we headed back to our resort.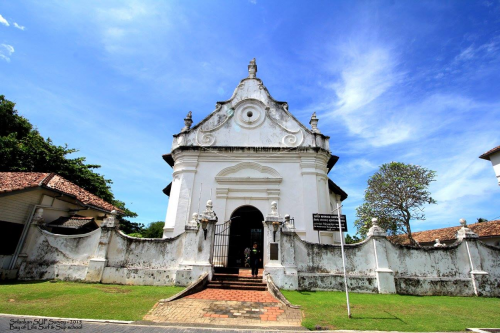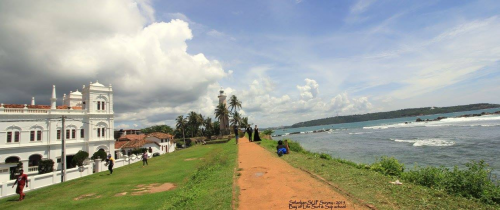 Mr.Chamara promised me to join for paddling in madu ganga waters in the morning but he was busy with his german clients. Little disappointment for few mins but madu ganga waters in front of me recharged my energy level. I inflated my Naish 10' ft iSUP and fixed sports DV in paddle
board and walked to Madu ganga boat safari is just 200 metres from Christian mountain villa ayurveda resort. Sticking to the basics for paddling in unfamiliar waters, I enquired boat safari manager about madu ganga waters and any possible threats with respect to the safety for paddlers. Manager who is a localite confirmed no threats but he recommend to paddle in group or under supervision. So I decided to paddle for short duration under vicinity of the boat safari staff.
First impression about this place is perfect launching point for the paddle boarders. Water looks dark brownish due to the heavy rainwater inflow from madu ganga river catchment and thick mangrove growth in front of me made me little nervous. My driver and boat safari driver taken role of dog watching my paddle board session. So I commenced my paddling session, water is so glassy that within few strokes of paddling I travelled 100 metres away from starting point. I kept paddling in the creek of water. After 30 minutes of paddling, I stopped paddling forward, quite a strong drizzling started and getting stronger with in few minutes. So I paddled back towards boat safari point. When I reached starting point, I met Mr.Sanjeewa chalakya, owner of madu queen boat safari and he is working for sri lankan government. Within few minutes, I understood his interest and excitement in paddling. I gave him basic induction about paddling. He tried paddling for few mins. As overcasting clouds made the place darker, I called off the paddling session and confirmed the next morning long session paddling tour with Mr. Sanjeewa.  Now I deserve big appetite and rest for next day SUP session so I headed back to my room.
DAY 2 – Great Encounters
Before sunrise, I started my day with yoga session in top floor open terrace of the villa. Around 6 am, first light pierced through the rain clouds, I captured all those golden moments in my DSLR and also in my 569 megapixels equivalent eyes :-). Golden sunlight, gloomy clouds and dense rich tree cover, countless species of birds is magic combination of mother nature. And I am in the middle of this magic land. After 30mins  of photo session, I walked with SUP and camera kit to madu ganga boat safari.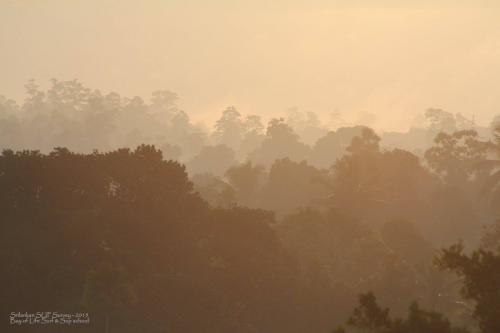 Surprised to see Mr.Sanjeewa and crew waiting for us in the boat safari point. Around 7am, I started my paddling tour, Sanjeewa and his brother, my driver with boat driver followed me slowly in the motor boat.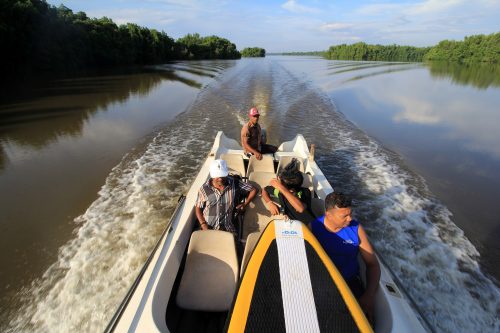 I continued paddling for 30 mins, crew from boat religiously captured all my paddling moments. I came to a point where mangrove island in front of me stood like mountain ridge. Sanjeewa requested me to get on the boat with my board. I followed the instruction. Our boat entered into mangrove forest tunnel, within few seconds we are inside thick mangrove forest, sunlight struggling to enter this thick vegetation.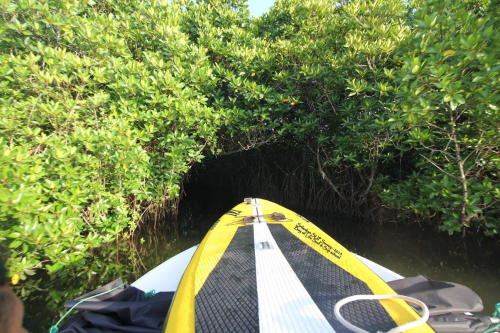 Motorman throttled boat gently to avoid getting stuck inside this thick vegetation. We entered another long track of open waters.
Another great opportunity to paddle in front of me I grabbed it, started paddling till i spotted it. Approximately 10 meters in front of me, I noticed something golden brown in color under reflection of morning sunlight swiftly moving towards left of my paddling direction. At the same time, motorman and crew which is few metres behind me screeched "kumaran !!! kumaran !!! crocodile in front of you". Adrenaline rush happened in myself and in microseconds I focussed in that moving thing "crocodile" closely. Croc which is almost 10 foot long. This is the first time even the local crew spotting a crocodile that too 10 foot long one. Crew clicked pics of it.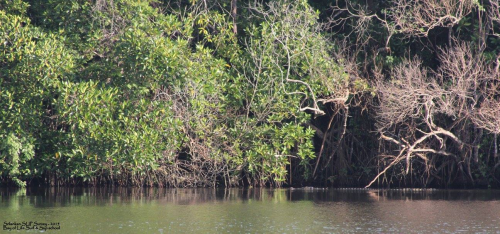 Crocodile kept moving away from me, lucky me. It seems we both decided not to disturb each other.
I am quite aware about croc presence in this mangrove ecosystem before this SUP tour, but my conversation with locals, convinced that crocs are almost vanished. It proved wrong when we spotted huge one. Usually locals avoid moving in remote mangroves of the maduganga waters and also boat safari start usually later of the day so chances of spotting crocodile are very much limited.
During this paddling tour, we stopped in six spots.
Cinnamon Island – only one guess what they do in there, that's right make cinnamon. They showed us step by step how to make it was really cool They cut the branches off the tree, then cut what looks like the bark off, it looks like a rolled up piece of paper when they are done. Then it needs to dry in the shade for 2 weeks. After 2 weeks it gets crashed, put through a strainer then it's ready for use
Maduganga river swampy trail & Bird island – Places where the madu ganga fresh water meets the mangrove forest made this place as one of the best birders paradise.
5 cents island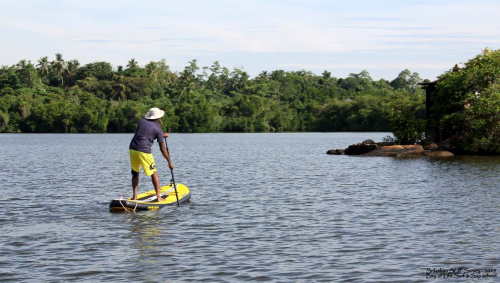 waters is also conducive for the existence of the temple and it is through an underground pipeline that drinking and other water is supplied there.
Kothduwa island buddhist temple – The Kothduwa Purana Raja Maha Viharaya is an esoteric hideway. It is the only temple inside a river without a village flanking it. The Vihara and the temple by itself pervades a mushy and a tranquil aura. It is an ideal venue to soothe the weary nerves. The ripples of the Madhu Ganga waters also remain serene to add to the backdrop which is also seen as an ideal abode to empty the volitions of the human minds in his fiercely competitive and stressful world. The surrounding brackish and saline
Camping island – Great Place for overnight camping (support provided by Madu queen boat safari – Mr. Sanjeewa)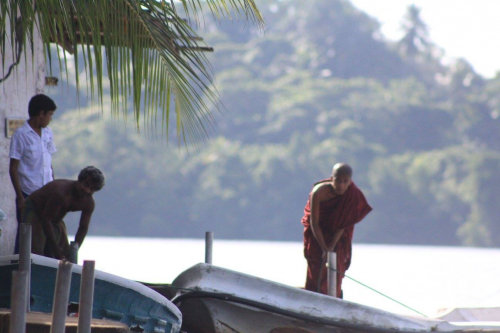 Fish pedicure in Galman Duwa island
Bat tree near madu queen boat safari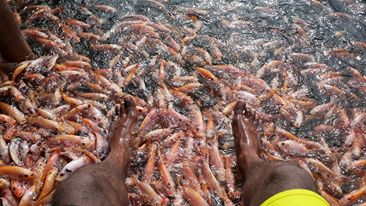 As usual, I encouraged everyone in my crew for trying SUP.  Sanjeewa and boat driver readily accepted my offers and tried paddling. Sanjeewa is the first one to try paddling. For first 15 mins he tried paddling in kneel down position. After gaining confidence, he stood up slowly like toddler. Within minutes he started paddling comfortably in standing position. Next to go is Mr. boat driver. He done it easily like a pro. So I decided to return and we reached the starting point around 10.45 am.
The end of this four hours long tour with distance of more than 20 kms paddling  gave me great understanding of the madu ganga ecosystem.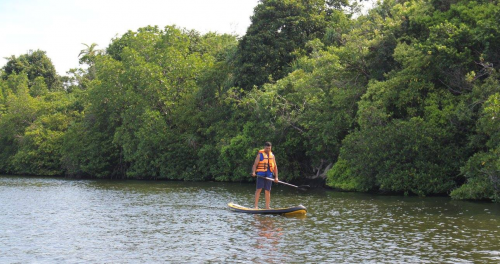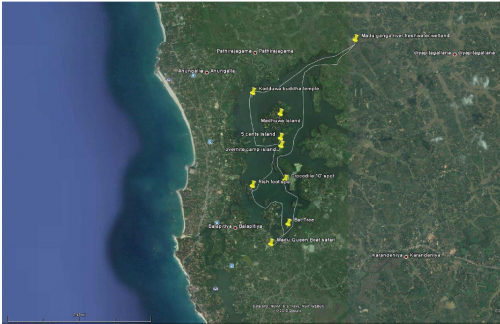 Observations and Suggestions:
This estuary is very much active in all aspects whether it may be tidal influence, strong freshwater inflow, diverse flora and fauna so at any point of time during paddling try to understand this system.
Water is more murky during rainy season which makes one to misjudge the depth and threat (Crocodiles) in the waters. Swimming is not recommended.
Lagoonal creeks (all time) and open waters (morning) makes wonderful spots for SUP beginners.
Open waters become choppy during later part of the day and will be challenge for SUP beginners
If you are nature lover (Bird watching, Reptile spotting) this is one of the best place in Sri lanka.
Always paddle in group and if you are planning for long distance paddling / or inside mangrove forest, hire motor boat with experienced local support.
Be watchful when you paddle and move near mangrove vegetation.
Finish the tour before sunset, as local fishermen will be laying fish nets in the evening.
Respect locals, they are great source of information and support – I recommend Madu Queen boat safari
Paddle boards and paddles, life jackets is available for rent with christian mountain villa (contact Mr. Chamara indika: +94 76 749 4404).
Stay away from crocodiles and bat. Respect the wildlife here.
Plan at least two days of stay in balapitiya for exploring Madu ganga ecowaters.
If you are using inflatable board, avoid using it in mangrove forest tunnels. Mangrove tree roots may easily puncture your paddle board.
Undoubtedly Madu Ganga bio rich estuary and its local people proved me this is a great place of paddle boarders. Plan a trip and have fun.
Cheers
Kumaran Mahalingam