Unravelling the Hidden Lakes of the Delhi – NCR region – Paddleboarding Survey
Last year one of my attempts in standup paddleboarding in Bay of Bengal has been recognized by Limca Book of Records. This recognition motivated to focus on paddleboarding and conservation of water bodies. In span of 14.5 months, I travelled more than 25,000 KMs and paddled in 18 different water bodies  (18 in India, 1 in Sri Lanka, 1 in Malaysia) to understand different ecosystems and to promote the paddleboarding. Lately more on lake conversation in and around Chennai after 2015 floods. Except three waterbodies, paddleboarding has been done for the first time in rest of 17 water bodies.
| | | | | | | |
| --- | --- | --- | --- | --- | --- | --- |
| Survey Date | No of Surveys | Location | Country | Type of Water body | No of SUP trips | Paddle Distance (Only first survey trip distance) |
| April – 05 – 2015 | 1 | Great Salt Lake Back waters,Chennai | India | Brackish Water | 3 | 16 |
| Aug – 23 – 2015 | 2 | Tanjore Cauvery Canal, Tamilnadu | India | Irrigational Canal | 1 | 20 |
| Sep – 18 – 2015 | 3 | Kaliveli – West- ECR – Pondy Road, Kancheepuram | India | Brackish water lagoon | 2 | 6 |
| Oct – 11 – 2015 | 4 | Langkawi Main Island | Malaysia | Open water – Saline | 3 | 20 |
| Nov – 01 – 2015 | 5 | Dal Lake, Srinagar | India | Warm Monomictic Lake | 2 | 22 |
| Nov – 08- 2015 | 6 | Madu Ganga backwaters | Srilanka | Estuary (Mixed water) | 3 | 25 |
| Nov – 14 – 2015 | 7 | Odiyur lake backwaters | India | Brackish water | 2 | 4 |
| Nov – 29 – 2015 | 8 | River Nuanai & Dhanua river, orissa | India | Mixed water | 1 | 20 |
| Dec – 10 – 2015 | 9 | Maduranthangam Lake, Tamllnadu | India | Fresh water lake | 1 | 13 |
| Dec – 10 – 2015 | 10 | Periyaputheri Lake,Kancheepuram | India | Fresh water lake | 2 | 3 |
| Dec – 13- 2015 | 11 | Vengaivasaal Lake, Chennai | India | Fresh water lake | 2 | 5 |
| Jan – 01- 2016 | 12 | Senneri, Kancheepuram, Chennai | India | Fresh water lake | 8 | 8 |
| Mar – 12 – 2016 | 13 | Kovalam – Island Quarries, Chennai | India | Fresh water abandon quarry | 4 | 3 |
| Mar – 23 – 2016 | 14 | Lake Kolavai, Chingelpet, Tamilnadu | India | Fresh water lake | 1 | 8 |
| Apr – 01 – 2016 | 15 | Sonnallur, Kancheepuram | India | Fresh water lake | 1 | 5 |
| Apr – 01 – 2016 | 16 | BOL offshore – Kovalam – ECR, Chennai | India | Open water – Saline | 5 | 4 |
| Apr – 17 – 2016 | 17 | Srikundram | Lake Ponninyin Selvan | Fresh water lake | 15 | 8 |
| Apr – 18 – 2016 | 18 | Kayar, Kancheepuram | India | Fresh water lake | 1 | 4 |
| Jun- 18 – 2017 | 19 | CITM-2 lake, Asola Wild Sanctuary | India | Fresh water abandon quarry | 1 | 3 |
| Jul – 03 – 2017 | 20 | River Godavari – Pattisema to Rajahmundhry | India | Fresh Perennial River | 3 | 32 |
| | 20 | | | | 61 | 229 |
Stats

No of water bodies paddled

20 waterbodies

Paddle distance – First Survey trip

229kms

No of Countries visited

3 countries

Total kms travelled (Air, Road, Water)

25000kms

Total no of days – Paddle

61 Days

Total Duration 05-Apr-2015 to 03-Ju1-2016

14.5 months
Though I am from south of india, gurgaon is another home for me. I am working here for a decade now in Gurgaon. But still my dream to paddle in serene water body during weekend in and around gurgaon took me more than a year. Travel with me in this travelogue to understand how i succeeded in identifying waterbody for paddleboarding & snorkelling.
Challenge of finding serene water bodies – Why?
Due to the globalisation and its proximity to country's capital, This semi arid Gurgaon seen phenomenal growth within two decade from a dusty small district headquarters  to one of the business hubs of India. 
Though being a leading financial and industrial hub with the third highest per capita income in India, with groundwater level depleting at an alarming rate – more than one to  two metre every year, the level of the groundwater has now fallen below 20 to 30 metres due to an exponential growth in population in the last two decades. Geologists say that if this depletion trend continues, then Gurgaon's groundwater level will fall below 50 metres in the next seven years, without adequate measures the groundwater reserves may reach the critical level of 50 metres by 2030.
When this so called  "Millennium" city of India is struggling for satisfying its daily  water needs and i am looking for serene water bodies in and around gurgaon with my list of specifications and expectations is definitely big challenge.
Breakthrough
My previous SUP exploration planning, tools, attempts and success in finding a perfect waterbody for Standup paddle / Paddleboarding & snorkelling made things easy to identify the waterbodies in this semi arid region.
From google maps, Topo sheet available in net, blogs, videos and news article i finalised four waterbodies around gurgaon and decided which one is ideal for Standup Paddle & Paddleboarding survey.
1,
Sultanpur National Park Lak
e – Sultanpur Bird Sanctuary is very popular national park located in Gurgaon District in Haryana State. Sultanpur is located 25-30kms from Gurgaon (Sikandherpur metro). This Bird Sanctuary lake, ideal for birding and bird watchers, is best visited in winters when a large number of migratory birds come here. As far as my understanding, recreational water sport activities like paddleboarding and kayaking is restricted. Personally i don't recommend this wetland for any recreational activity except bird watching.
2,
Damdama lake
– 30kms / 50mins drive from Gurgaon (Sikandherpur metro). Reservoir in Sohna, Gurgaon district in the Indian state of Haryana. It is one of the biggest lakes in Haryana and with an area of 3,000 acres (12.14 km2). Damdama Lake was formed when a stone and earthen dam constructed by the British was commissioned for rain water harvesting in 1947. The lake, held by an embankment, is fed mainly by monsoon rain pouring into a trough at the base of the Aravali hills. The Lake greets visitors with a water level down to 20 ft (6.1 m). During monsoon the water level reaches up to 50 ft (15 m) – 70 ft (21 m). My last visit was immediately after monsoon last year, looks like it was a vast lake long back, spotted few tourists doing peddling in Haryana tourism boats and in middle of the shallow lake i found dozen of buffaloes chilling out. Lake has been poorly maintained by the authorities. Though this water body is already in use for recreational sports. This lake is not recommended for paddle boarding.
3,
Abandoned Quarries –  Hidden Lakes
– Asola wildlife sanctuary – 30kms / 30mins drive from Gurgaon (Sikandherpur metro). Out of six lakes i spotted in google maps, Lake CITM 2 / Lake Oasis being explored by paddleboard and it is perfect place for paddleboarding, kayaking, swimming and snorkelling, trek. I will talk about more in details about these lakes below.
4,
Badkhal lake
– 28kms / 35mins drive from Gurgaon (Sikandherpur metro). Once upon time there was a beautiful lake named in Badkhal lake. Sadly now this lake has been dried up. Authorities taking a steps to revive this lake as per the update from newspaper article. 
Dream come true moments – Paddleboarding experience in Lake OASIS
After several successful discover paddleboard and snorkel sessions in serene lakes of chennai every fortnite. I decided to continue my SUP exploration back here in Delhi & NCR regions. From the above four water bodies, I picked the man made lakes once they are abandoned deep mined quarries. Thanks to the monsoon showers which filled these few hundred feet deep quarries and turned few of these gigantic meteroic impact crater like spaces into fresh water lakes.
Though i am a geologist, i want to focus on paddle survey experience here. These precambrain terrain is remnant of one of the world oldest hill range "Aravali". The semi arid forest is one of well known spots among adventure seeking souls of this region. These forest trails used for cycling, short treks and bird watching.Lot of videos and travel blogs especially varad sabharwal inspired me to do paddleboard survey in one of the lakes in asola wildlife sanctuary. Varad sabharwal is one of my colleague who is petroleum engineer by profession and cyclist, fashion photographer by passion. 
Except my life jacket, i brought my 10ft Naish Inflatable SUP kit from chennai. Kit contains UV protection coated PVC inflatable paddleboard, pump, puncture fixing kit, collapsible paddle and overall this backpack ISUP kit weighs just 13kgs only.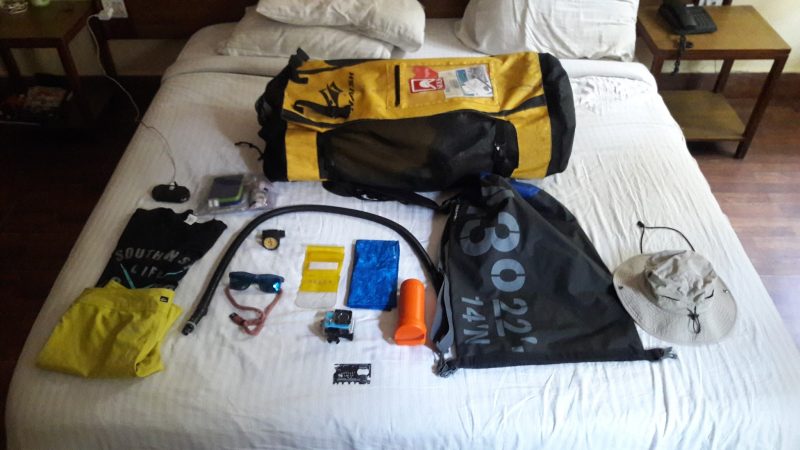 On 18th July 2016, Varad, Vaibhav and Nadine joined with me for the first time paddle board exploration in lakes of the  Asola Wildlife Sanctuary. Within 30mins we reached the first route shown in the google map but the path has been blocked by huge sediment fill by sanctuary authorities to prevent the vehicle movement inside the park. So we drove to Manav Rachna college junction and again we found the path leading to the lakes been blocked by huge sediment fill. So we parked our car and started walking with ISUP backpack, food & camera kit.
Within few mins of trek, we spotted the first lake – CITM 1 as mentioned in google map. We approached the north edge of the lake and within few seconds we are in edge of the 200ft steep edges of the lake. The view was spectacular and gives tremble for first time visitors by its deep gorge feel.
Water looks murky which shows last nite rain runoff is the reason. Water level marks on the quartzitic lake walls clearly shows 3 to 5metres reduction in waterlevel due to evaporation. Still these lakes are super deep. Though other side of this lake has access to the water, it will be long trek and way looks very steep. We decided move to second lake – CITM 2  which is approximately 400m far from CITM-1.
On the way, we encountered hundreds of monkeys (Rhesus macaque) socialising on the banks of CITM 1 lake on the gentle morning sunlight. Around 6.45am, we reached spotted the CITM-2 lake. It was magnificent and glassy water body spreading approx 400-500m in length and 200-300m in breadth. Within few mins we reached the coarser sandy shore of CITM-2 lake. From that moment, i thought CITM-2 is not appropriate name for this beautiful waterbody exists in the middle of semi desert region. So CITM-2 lake christened as Lake "OASIS"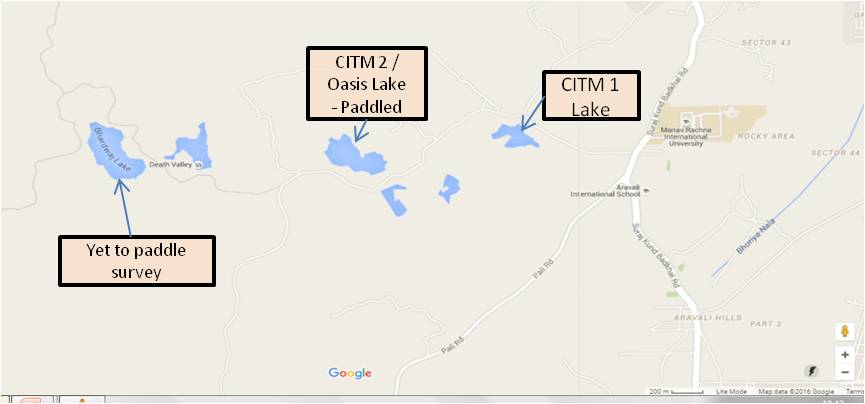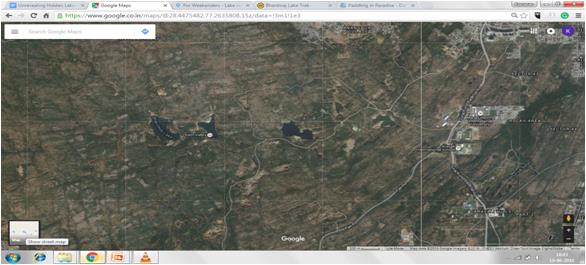 Quickly with help of the team, Paddleboard being inflated. Every single moment being recorded with our Gopros, DSLR and Mobile cameras. Before entering into water, i quickly visually surveyed entry point and opposite side of the lake. Within few steps, lake is so deep and lot of fishes in the water indicates lake supports lot of lake fauna. No threat if this lake water enters our system.
Varad & Nadine inflating 10ft Naish paddleboard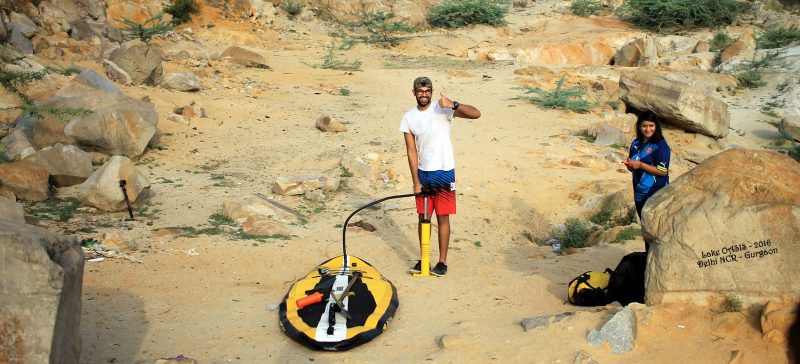 View of Lake Oasis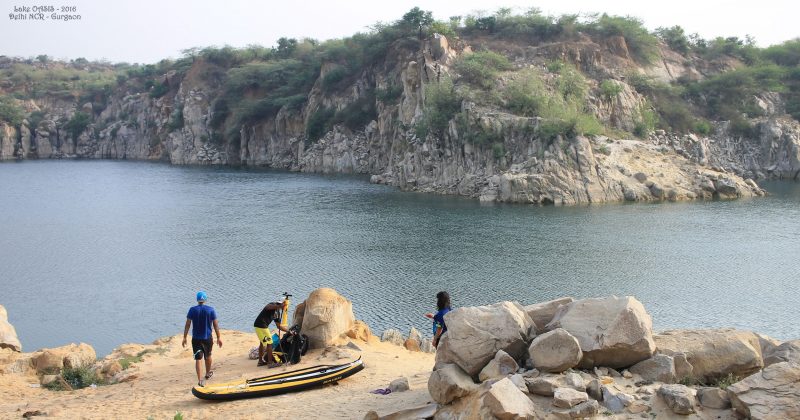 Launching carefully with gopro camera mounted paddleboard
Crystal clear water ideal for snorkelling
Few strokes in the middle of glassy water surface – "Walk on Water experience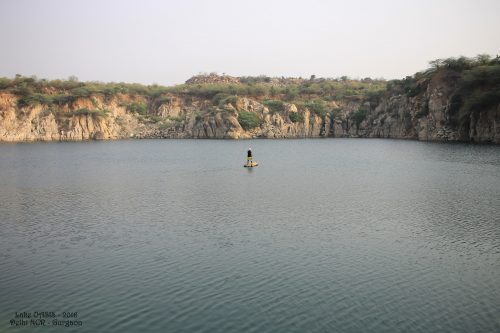 Vaibhav's discover paddleboarding moments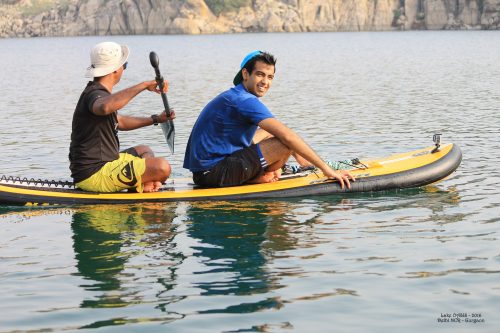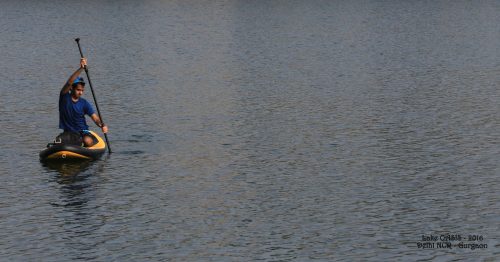 One of the local visiting paddleboarding action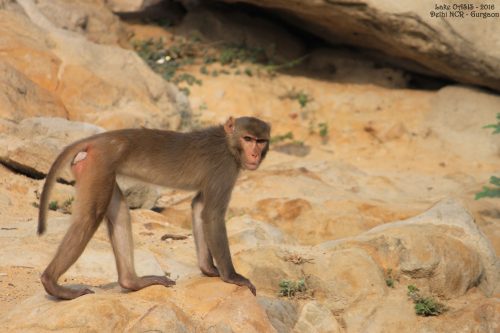 Now its time for Varad – Strong swimmer to discover paddleboarding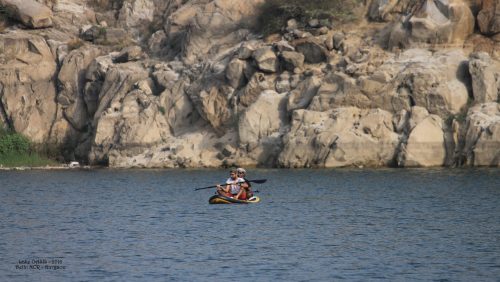 Nadine in action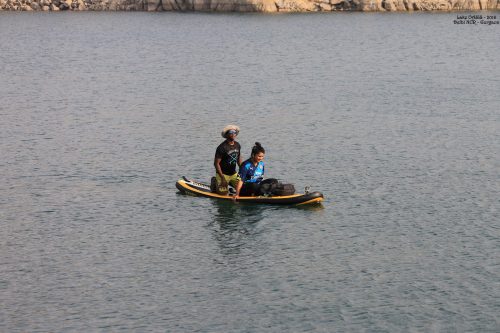 Varad, Vaibhav and Nadine discovered paddleboarding for the first time and our paddle survey comes into an end. At 8am, i decided to call off the session as the sun is picking faster and started feeling the heat.
It took just few mins for us to deflate, pack.  Mission has been accomplished and i am more than satisfied with the session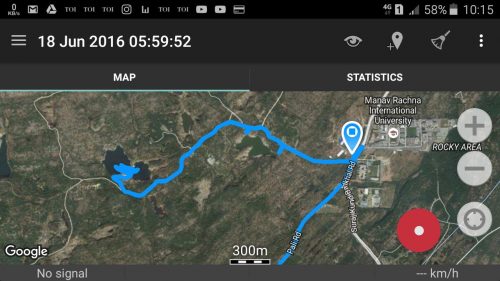 Observations & Recommendations
Ideal place for Flat water paddling, nature walk, Kayaking, Snorkelling.
Though we didn't use personal floatation device (Life Vest) in this survey. Never enter these waters without life vest even if you are strong swimmer.
You can observe local Fauna like Deers, Monkeys, Porcupines, Jungle cats, a wide variety of birds and reptiles
30mins to 40mins drive from Delhi and from NCR's
Best Season throughout the year There are several lakes in Asola Wildlife Sanctuary. Lake Oasis (CITM-2) and Lake Bhardwaj is the best among them for paddleboarding, swimming, kayaking & Snorkelling
Never go alone. Always go in a group at least minimum three persons is recommended
It's quite remote location so first aid kit is mandatory and in a group one of the member should be Wilderness First Responder or at least trained first aider.
Always be aware of the wildlife (Monkey). Leave all the food and valuables in your vehicle else keep them out of the sight from monkeys.
Make sure to respect and listen to the locals, because they know the area well, and can be of great help to you.
Respect the wildlife. Never feed wildlife.
Check the inflatable paddle board, leash and life vest before entering into water.
Paddleboard repair kit is must.
Plenty of water and food.
Mobile network signal is poor or nil at some spots.
Exit the sanctuary atleast 30mins before the Sunset. Never venture the park in dark or poor light conditions.
Regular cleanup of plastic and garbages, introduction of turtles will help to keep these ecosystem in pristine condition.
Cost of inflatable SUP kit ranges from 5,00 USD to 1,200 USD
Avoid being loud inside the park. Please maintain the serenity.
For more information on Standup paddle / paddleboarding, please contact me – [email protected] – +91 9971091541