Paddling the breathtaking waters of the Langkawi Islands _ Malaysia
For my 4th stand up paddling expedition, I decided to explore the clear, blue waters of the Andaman Sea, more specifically the Langkawi Island. "Langkawi" means "Island of the Reddish-Brown Eagle" in colloquial Malay. The island is located right outside the northwestern peninsula of Malaysia, and is an archipelago of 104 islands at low tide, and 99 islands at high tide. Not only are there hundreds of beautiful and picturesque beaches with fine, white sand, and green and luxuriant rainforests, but also interesting places such as great areas of limestone, an eagle feeding area, and so-called crocodile caves. I dare say the Langkawi Islands are some of the most beautiful tourist destinations in the Andaman Sea. With the evergreen rainforests in the north and its rugged terrain in the south, Langkawi Island is a beautiful island. I decided to go there off season, as my experience with stand up paddling has shown me that less tourists means less activity in the waters around the island, and also, just as importantly, lower prices on the island itself. 
After exploring the Great Salt Lake backwaters, Odiyur Lake and Cauvery Canal back in Tamil Nadu, my knowledge and confidence in paddling had grown, and I wanted to test my paddling skills outside of India. Because this was my second trip to the Langkawi Islands, I decided to explore more open waters around the Langkawi archipelago on this expedition.
Always pre-plan
I always plan ahead when I go on paddling trips like this one, especially when going outside of India. Before this trip I was a bit anxious and tense, and I was worried about whether or not this expedition would be a success, due to the unfamiliar water conditions of the Langkawi Archipelago. As a precaution and preparation, I did a lot of research on the Andaman Sea and possible threats in the area, such as sea snakes, jellyfish and sharks. I also checked the weather report regularly, and did a Google Earth Maps analysis, to make sure I knew the area fairly well before going there. This preparation and study, combined with my experience from previous paddling trips, made it easier for me to identify four spots that would be suitable for paddling.
What caused much of my worry, however, was the weather forecast. The week before my trip there were numerous thunderstorms and a heavy haze coming from Indonesia to shroud the Langkawi Islands in a heavy blanket, and several flights to Langkawi had been cancelled or redirected to a different destination in the week prior to my trip. It did not look promising for my dream of paddling the open waters of the Andaman Sea. Even so, the forecast foretold clear skies for the weekend, and that kept my hopes alive. The wind also looked moderate, which would be great for a memorable SUP session.
I also had to consider the possible threats and dangers from sea creatures. There are no sharks around the Langkawi Islands, but there has been several jellyfish attacks reported in the past years. Jellyfish will thrive in polluted waters, and therefore I planned my SUP spots accordingly, keeping away from the bigger tourist attractions such as Kilim Mangroves, as the waters around such places would be significantly more polluted than more secluded areas. Also, I was not completely sure whether the waters would be free of crocodiles or not, which was another reason to stay away from the Kilim Mangroves, as it is a popular spot to see crocodiles. After keeping all of this in mind, I put together a number of spots I thought would be good for paddling, and luckily the storms cleared right before me and my friends set out to explore the Langkawi Islands.
Day 1 and 2: Exploring and settling in
My three friends Ajesh, Manoj, Hari and me flew out from Delhi International Airport, and arrived the next morning in Kuala Lumpur. There we had a connecting flight to Langkawi, where we arrived well before mid day. The Langkawi International Airport is actually one out of seven international airports in Malaysia, and is definitely the most convenient way to get to the Archipelago, even though it is also possible to go there by sea.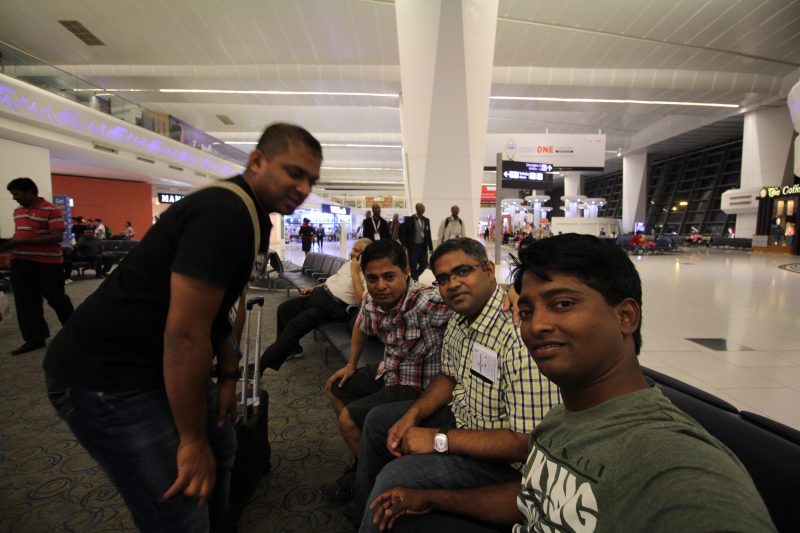 At Delhi International Airport before take-off.
We rented a car at the airport, and drove to the rainforest resort where we would stay while on this trip. There are taxis available, but I think renting your own car or motorbike is not only more convenient and affordable, but also more enjoyable. After checking in at the Ambong Ambong Rainforest Resort, we decided to check out the Langkawi Cable Car. This is a popular destination for tourists, and with good reason, as it is the world's steepest cable car, and takes you up to the peak of Gunung Mat Chinchang, where also the Langkawi Sky Bridge is located. From up here we could see some of the other islands in the archipelago, but it was still quite hazy.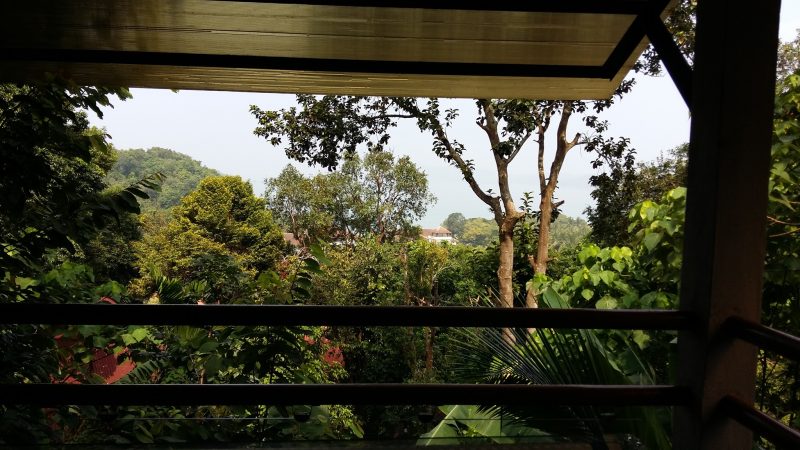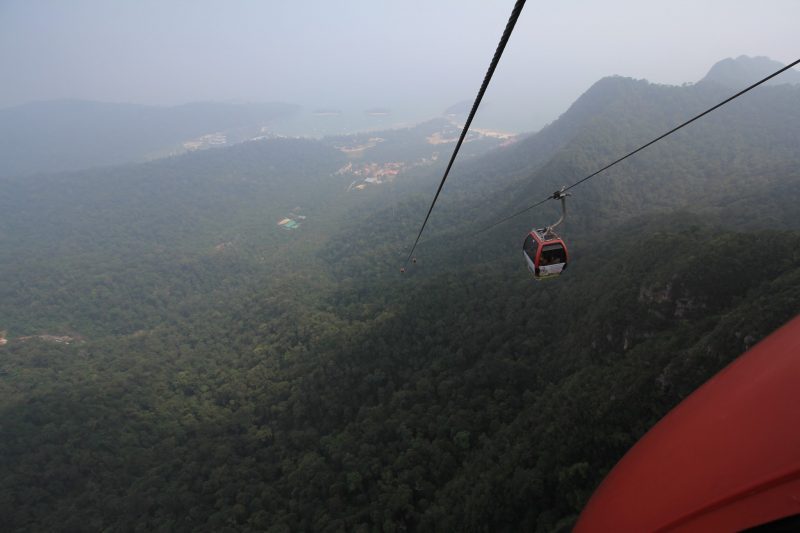 Going up the Langkawi Cable Car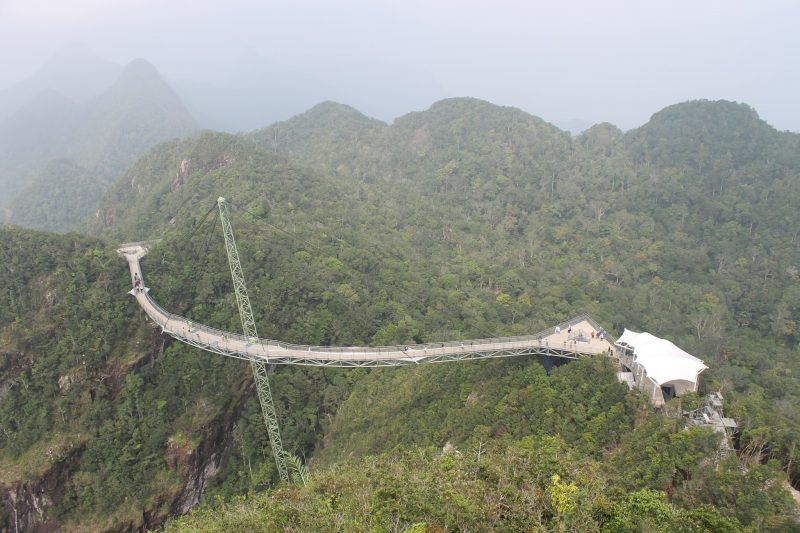 We had a beautiful view over the Langkawi Sky Bridge.
We also wanted to check out Pebble Beach, a dense rainforest area in the northern part of the Langkawi Island. Unfortunately, after a while it got too dark for us to enjoy it to its fullest, so after a while we decided to retreat to the resort and prepare for the next day, when we would go paddling.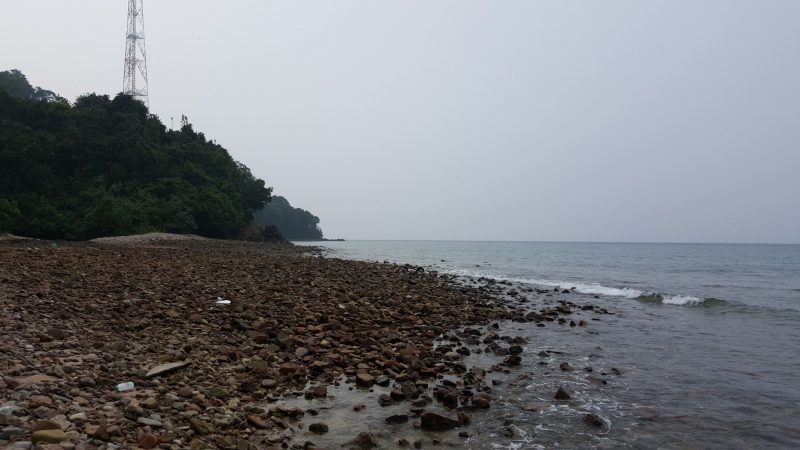 Day 3: SUP
We started the day with some yoga, like we usually do. Not only is it a relaxing start of the day, it also calms the mind and get our mind and body ready for the day. We hired a boat, which was not hard as we were there during off-season. Going to places like Langkawi during off-season opens a range of new possibilities, such as being able to enjoy the area without too many tourists, cheaper prices in general, and the possibility to bargain for better deals on for example the boat we hired. We had brought an inflatable paddling boat we would always stay connected to by rope, as a safety measure in case we fell off. It's very important to take precautions like this, as you never know what might happen at sea. Also, my friend Manoj had never swimmed before, as he is from the Himalayas. Usually I don't use life vests, but that is not very safe, in case the inflatable boat is punctured. As a general rule, you should stay close to the coastline if you paddle without a life vest, which we also did.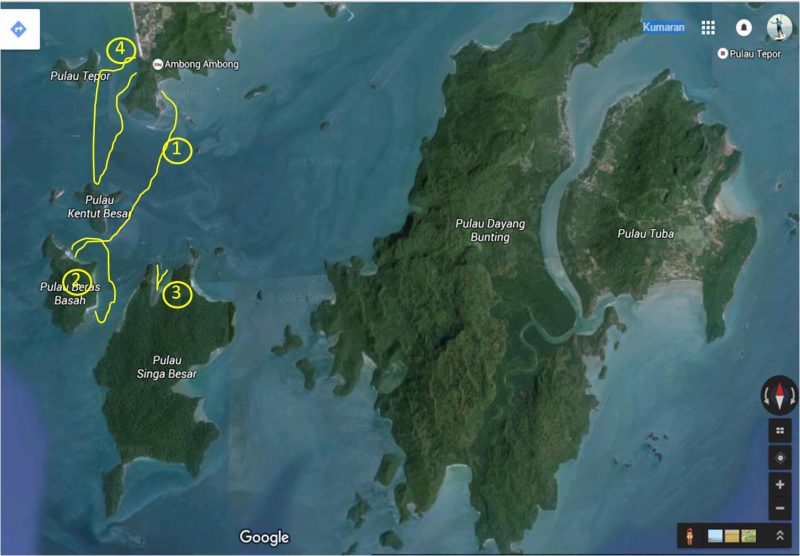 I have created this map to show you our paddling tracks. In day 3, we completed tracks 1, 2 and 3.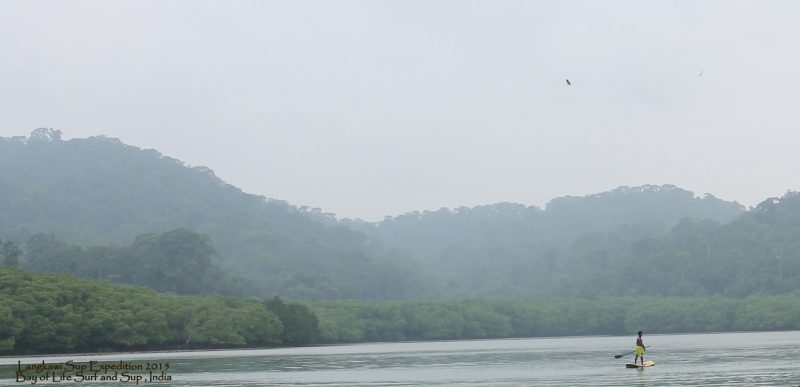 As we started paddling, the water was not particularly glassy, and the wind was quite strong, about 5 to 10 knots. The water was blue as we paddled for 25 minutes to reach the second island, Pulau Beras Basah. We had finally made it after all the horrible weather. Luckily we didn't see any jellyfish, but as a precaution we had brought vinegar and medicine in case we met some along the way. Even though the jellyfish in these waters are not lethal, the pain from being stung is excruciating, and so we had brought medicine as a safety measure.
We then made our way to what is marked as (3) on the map, names Pualu Singa Besar, also popularly called the "Eagle Feeding Place". The water was quite glassy, and as we arrived we got straight into the water, and a man would throw pieces of chicken into the water to feed the many eagles who reside there. We spent almost half an hour there enjoying the view of the eagles and taking photos.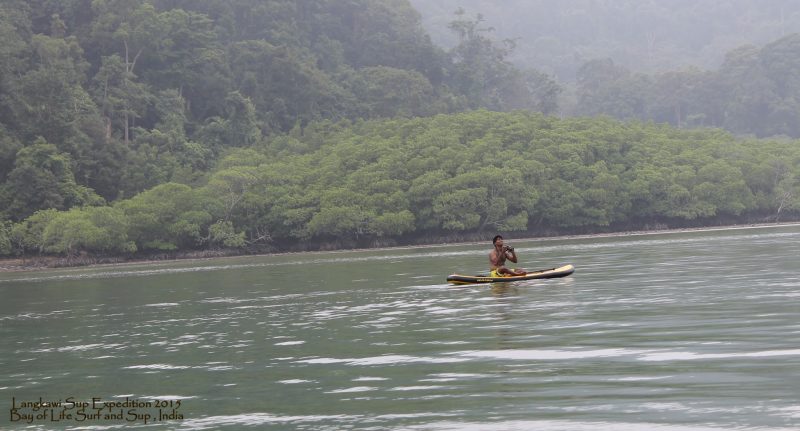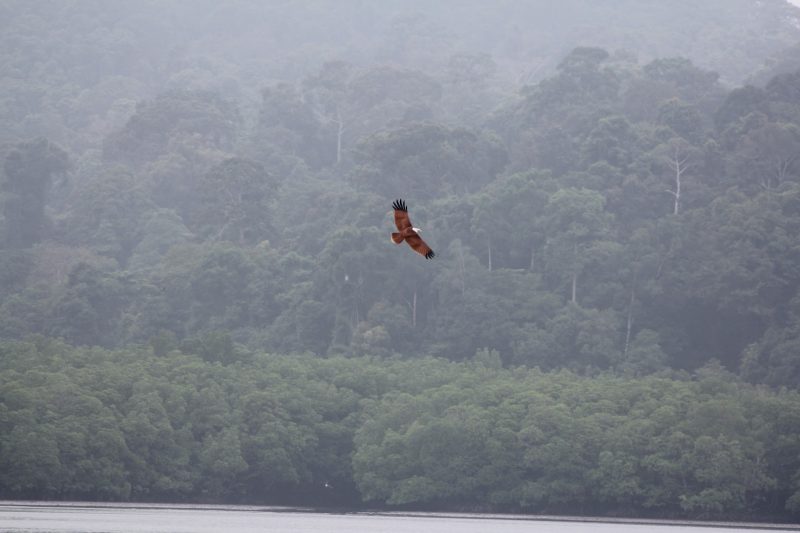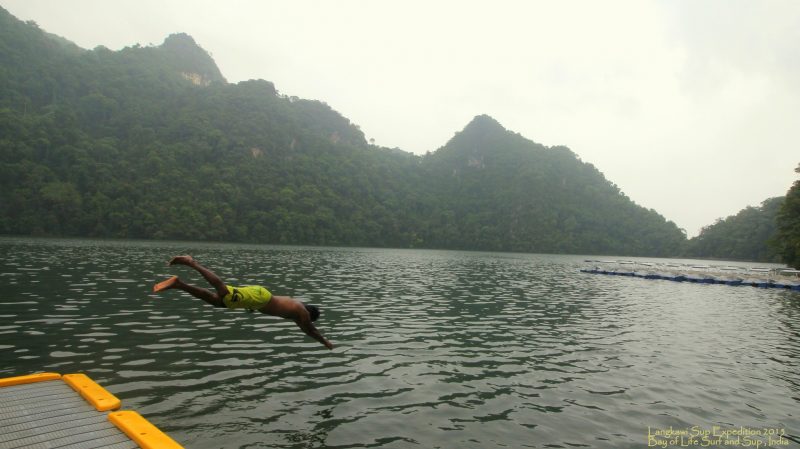 The next place on our list was the Dayang Bunti Geopark. It was getting darker, so we decided to go there by boat instead of paddling there. This Geopark is truly amazing, as it contains huge amounts of limestone that has metamorphosed into marble. For geologists like us, this was truly interesting and incredible to see. There was also a fresh water lake here, and we spent some time jumping into the water and enjoy some swimming, before we went back to the hotel for the night.
After this great day of paddling, I can say that the paddling tracks we chose were great for paddling, and I would recommend it to moderate paddles. I cannot stress enough that you should definitely bring medicine in case you have an unfortunate meeting with jellyfish, and also the importance of life vests. Lastly, it's incredibly important to have good communication with the locals, as they know the area better than you, and can be of great help when you plan your expedition.
Day 4: enjoying the islands
The fourth day I dedicated to my friends who obviously wanted to see more of the amazing attractions the Langkawi Islands have to offer. We decided to go on a the Mangrove boat safari, where we started going down rivers with incredible floating fish ponds, beautiful nature, and we also visited a crocodile cave. There were no crocodiles there, but it was still a nice experience. The rivers there are rich in wildlife, and if you're lucky, you might spot swimming macaque monkeys or hairy nosed sea otters.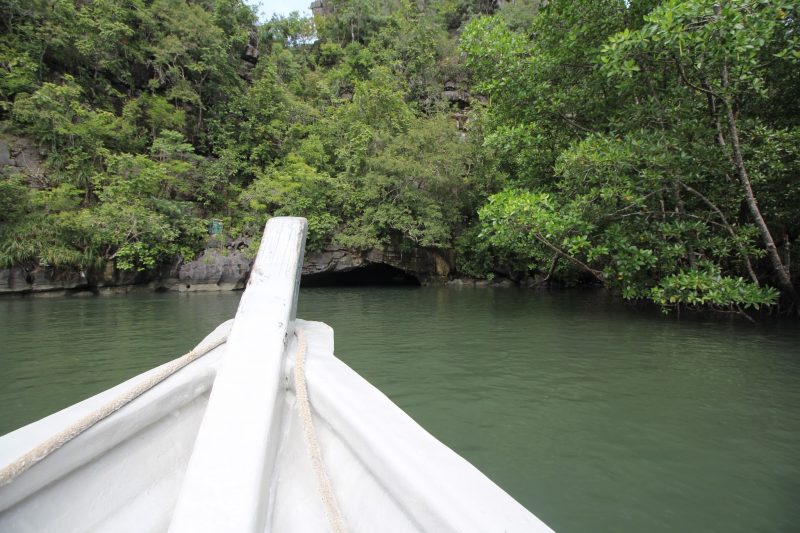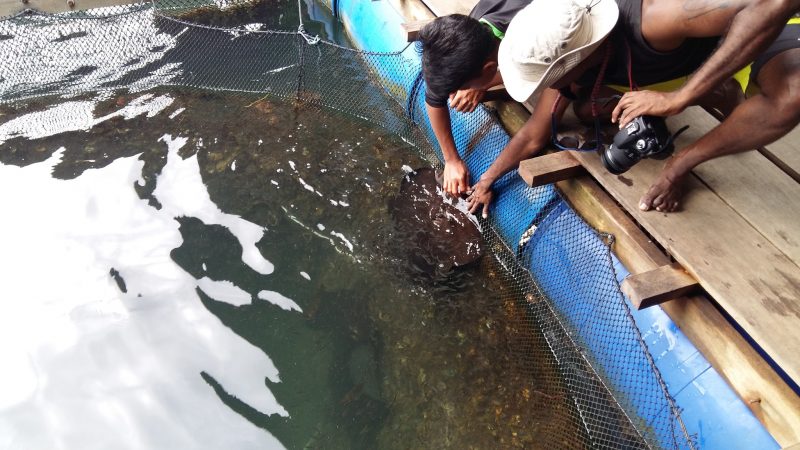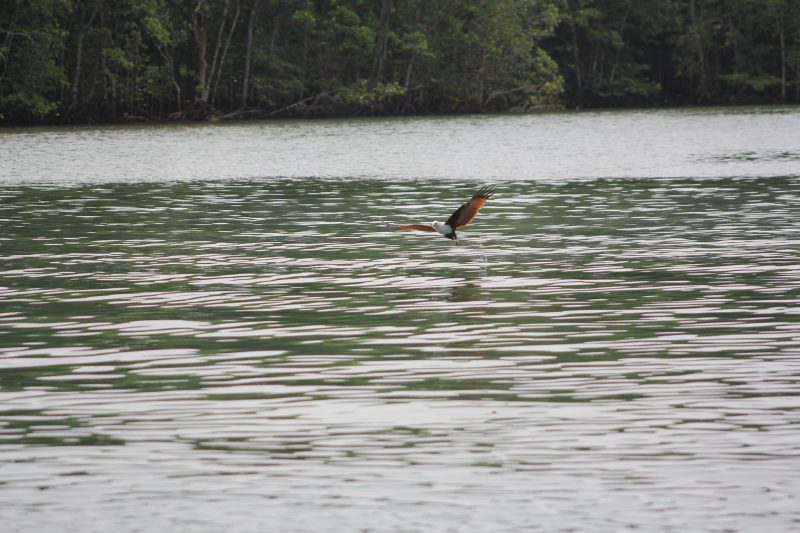 After going down the rivers we were taken out to the open waters, and continued on to the Kilim Karst Geoforest Park, which houses great amounts of limestone, and one of the beautiful spots here is called the Pirate Lagoon, which is actually a collapsed cave. You have to enter it from the sea, and then you will find yourself in a hidden lagoon with towering limestone walls and other caves. There is definitely a lot to see in this area.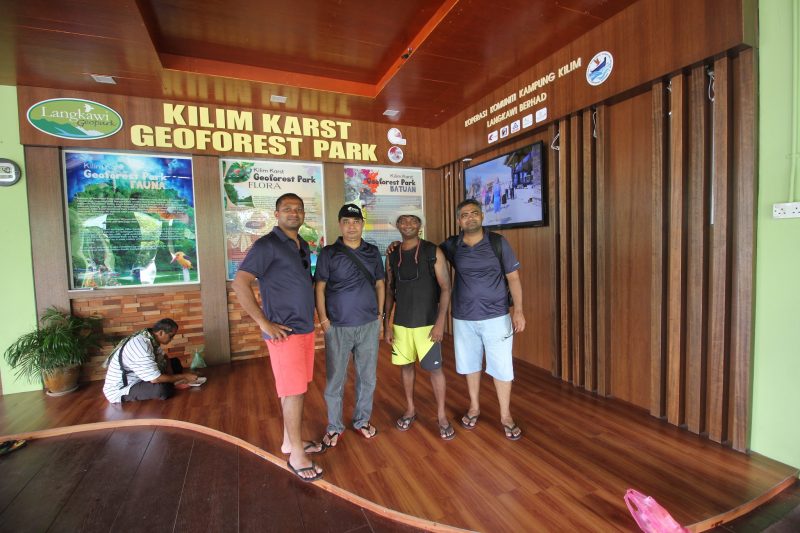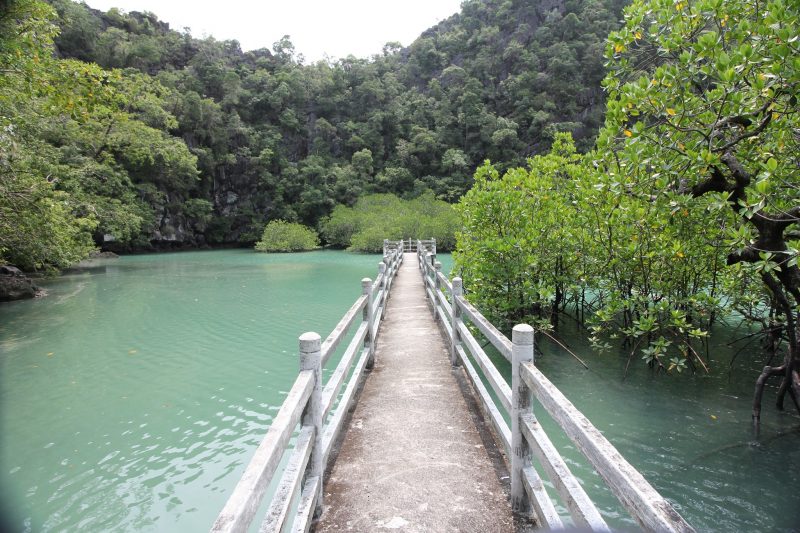 We also enjoyed some delicious ginger tea on the top of the Gunung Raya Hilltop, before retreating back to civilization and enjoying the local nightlife. Even if I mainly wanted to go to the Langkawi Islands for the paddling, it's just as enjoyable to get to know the locals and their customs, and joining the local nightlife is a great way to experience their ways and their culture.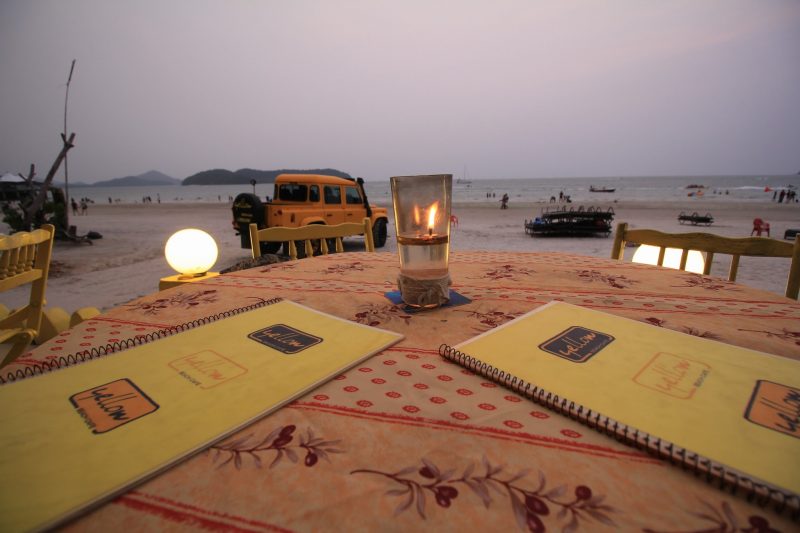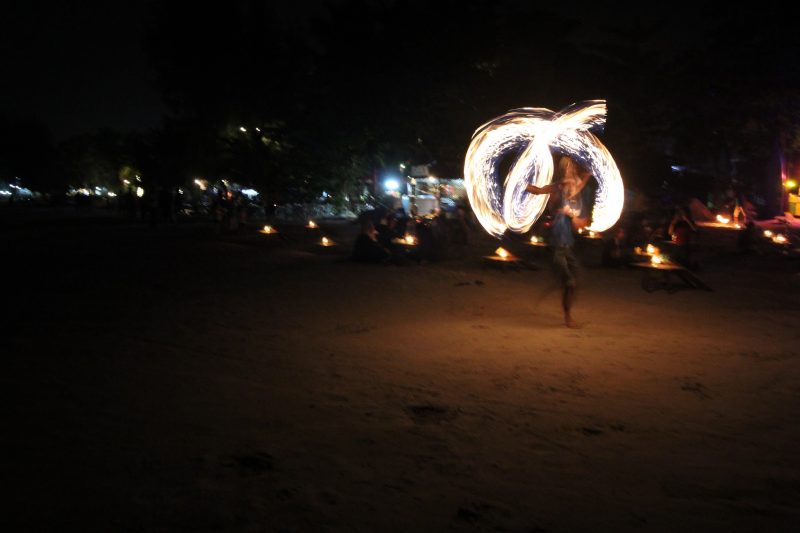 Day 5: Last SUP trip and back to India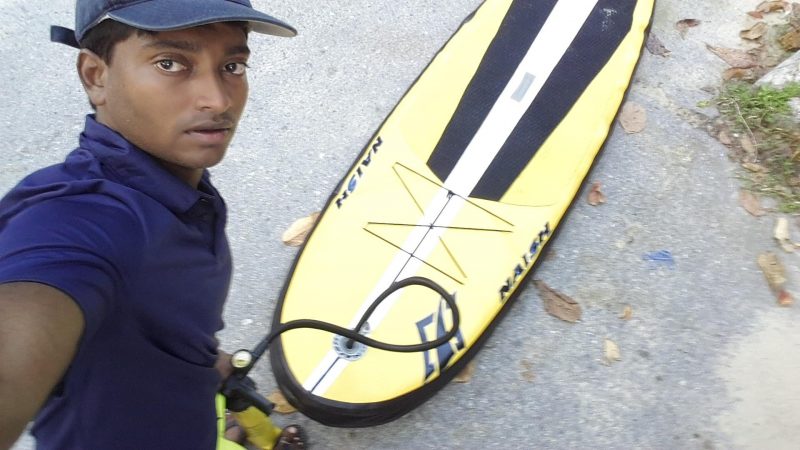 I once again started the day with some yoga, and left my friends (who were all worn out from the fun night before), and went to go surfing. I decided to go to Pulau Tepor to paddle the 4th track I had planned, marked as (4) on the map above. Here I saw lots of jellyfish, some of them almost 40 inches in diameter. After taking some pictures with my GoPro, I proceeded to paddle for about 15 minutes to the next island, where I could see lots of corals. Unfortunately many of them are damaged by pollution, which in turn attracts jellyfish. I would advise you to be careful if you ever find yourself in the same situation.
I then paddled out in the open waters, and spent about 45 minutes in the open sea. The wind was almost 10 knots. This particular track I would only recommend to advanced paddlers, as there can be lots of ship and boat movements in the open sea, and it's easy to have your board controlled by the currents. I went paddling in the morning, because this is when tourist traffic is at its lowest. Around lunch time the tourists will start their daily activity, and the waters will not be as calm.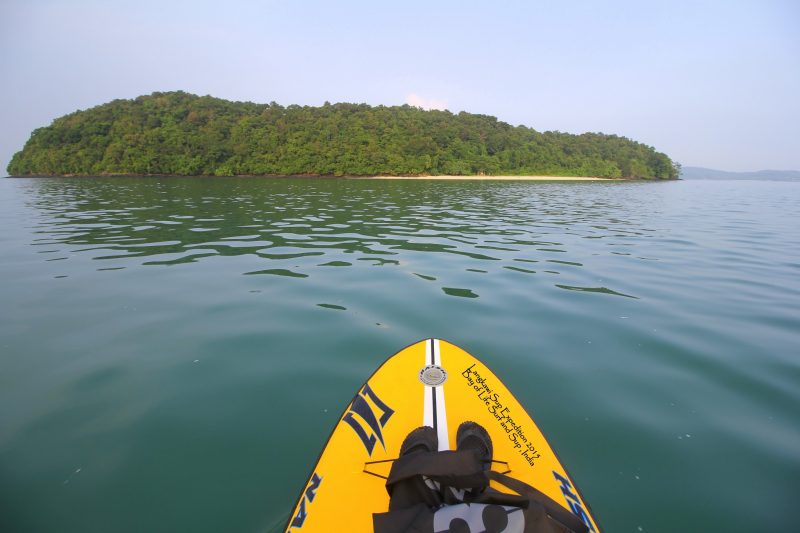 I had to make my way back to the hotel to prepare for the flight back home to India, and so this last paddling track concluded my paddling expedition to the Langkawi Islands. This was a great experience for me as a stand up paddler, and I got to paddle under different conditions than before. I would like to give you some advice if you as a paddler want to take the same trip as me; the tracks I marked on the map are suitable for moderate paddlers, but I would stay away from the open waters after noon. They are best visited in the morning when there is less human activity. It's very important to not go alone, as a lot of things could happen in open waters. Even though I went alone on the last day, I would advise any paddlers to not do the same thing. Also, bring medicine for possible dangerous sea creatures, in this case jellyfish, and use proper equipment such as life vests. The locals in this area are very friendly, and you should not have any trouble asking them for information or help. All in all this was a great paddling trip, and I would definitely like to go there again.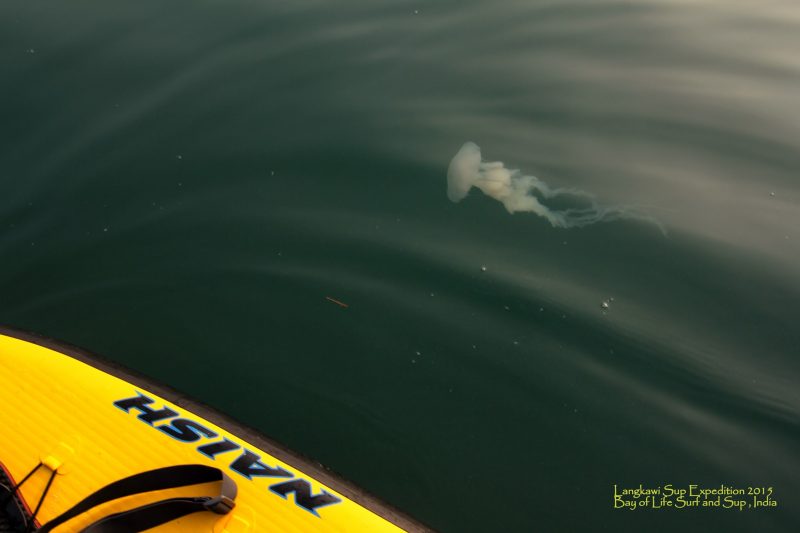 Costs and final suggestions
The overall cost for this trip, including round trip flights, Visa cost, prepaid SIM, motor boat rentals, three nights stay, food and drinks, tips, car rental and fuel, was approximately 2500-3000 Malaysian Ringgit (600-750 USD) per person. The resort we stayed at, Ambong Ambong, is on the expensive side, but it is truly a great place for nature lovers like myself.
Always be aware of the wildlife. This does not just apply to Langkawi, but any place you go paddling. Beware of possible jellyfish threats, and always keep vinegar with you, one litre should be sufficient. You should plan to stay at least four days in Langkawi, as it is a beautiful place not only for SUP, but also for activities such as bird watching, photography and water activities. You should also make sure to respect and listen to the locals, because they know the area well, and can be of great help to you. You should always paddle in a group, and if you want to paddle long distance, it can be very helpful to hire a motor boat with experienced local support. Both straits and open waters are great for beginners and moderate paddlers, but keep in mind that open waters are only good in the morning, before tourist activities begin. The open waters will become choppy during the day, and it will be a big challenge for SUP beginners.
About the author
Hedda Helle Kalland is a Norwegian student based in Tokyo, Japan. She studies international relations, history and Japanese, and her dream is to land a job in the UN. Her passions include writing, drawing, reading and outdoor activities, especially cross country skiing and swimming.
Co author is Kumaran – Geologist, Nature lover and  an avid paddler. He is the first one  from india  to explore more than 12 different water bodies in less than nine months (2015) by paddle boarding.