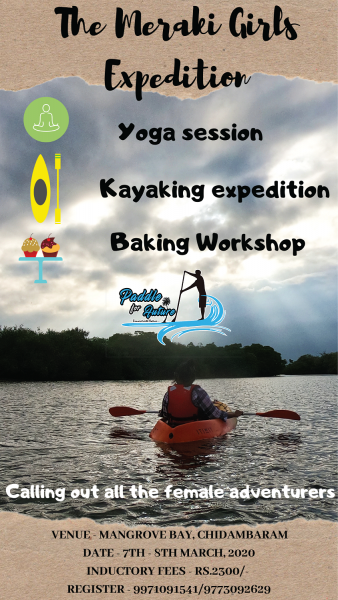 The Meraki Girls Expedition
by www.paddleforfuture.com #connectwithnature
DATE : 7th – 8th March, 2020
INDUCTORY FEES : Rs.2300/-
CONTACT NUMBER :  +91 99710 91541‬/+91 9773092629
_________________________________
Where to register & pay?
Option 1 :
Pay via Website :
Click 'Add to Cart' button below, fill up details and make payment.
Option 2 :
Pay via Google Pay :
+91 99710 91541
wellsitekumaran@okicici
CONTACT NUMBER : +91 9884984917 / +91 99710 91541‬
_________________________________
Highlights Of This Program
The Meraki Girls Expedition
Meraki Girls is an expedition for bringing together female travellers who are seeking adventures. To help women face their fears and create a community where Women help Women to travel and push themselves to discover new places.
Meraki is a Greek word for doing things with passion and creativity. And this expedition will help you rediscover your love for nature and yourself.
– A deeper understanding of Hatha Yoga
– Engage urban citizens in understanding water and their relationship with it.
– Overcome the fear of water
– Explore water bodies like never before, get closer to nature than you have ever been!
– Ditch your store brought pastry and learn to bake a cake from scratch
– 100% Natural Environment & Experience!
Package features
– 2 Kayak sessions – 90 min each ( Total – 3 hours kayaking), Equipment, Safety gear, non a/c bed stay, clean spacious restroom/changing/shower room, 1 refreshments/snacks, 2 Meals and drinking water.
– Mandatory signing of Indemnity form by the all participants.
– 1 Yoga session (Please carry your own Yoga mat) and a demo baking workshop which includes a recipe booklet, ingredients and equipment's.
Day 01
Arrive Mangrove bay camp facility by 2 P.M (Kindly reach the campsite ON TIME to ensure smooth running of the event)
2.30 P.M to 4 P.M – Kayak session (depends upon tidal scene, we will be do a kayaking touring in mangrove creek)
4.30 P.M to 6.30 P.M – Baking Workshop
6 P.M – Tea and refreshments
8 P.M – Dinner and games
A little stargazing if the clouds are clear. Early to bed and early to rise.
Day 02
5.30 A.M – 6.30 A.M – Yoga Session
6.30 A.M to 8 A.M – Kayaking mini expedition depends upon the weather conditions
We relish the cakes baked the day prior on the expedition overlooking the calming Kollidam river.
8.30 A.M to 10 A.M – Breakfast
The Meraki Girls Expedition ends after breakfast.
Note – We do not offer any certification for this workshop but session will be covering all the essentials of basic flat water Kayaking for this sessions.
Minimum 3 hours of paddling (Max – 4 hours)
Why should you attend?
# Kayaking Expedition combines fun & fitness.
# Develop an understanding and relationship with water bodies through water-sports engagement
# Disconnect from your routine life and connect with nature
# Learn the basics of Yoga and inculcate a healthier lifestyle
# Understand the essential of baking a cake from scratch and get simple baking recipes and tips
# Learn the world's fastest-growing water-sports & explore water bodies like never before
# Understand Mangrove ecosystem
# Meet-up with like minded fellow beings
How and What you'll learn?
Learn the basics of Kayak Expedition in Backwaters of River Kollidam. Backwaters are flatwater bodies which are the ideal spot even for beginners.
– Water safety & gear, all equipment will be provided
– Basics of Kayaking
– Learn balance and different strokes
– Kayak handling and control
Understand Baking essentials
– Baking essentials and theory
– How to make a bake without an oven in a pressure cooker
– Simple teacakes for any occasions (Eggless Coffee Vanilla Cake, Rich Chocolate Cake)
Who are we?
Paddle for Future is a team of water-sports instructors, environmentalists, fitness experts. Our organization's concept is to establish a personal connection with the environment and secondly to take up the activities needed for sustaining the water bodies. Our team is certified by the International Surfing Association and certified Wilderness First Responder by NOLS, Wyoming, USA.
Yoga and Baking workshops will be conducted by Vijaya Nair, The Meraki Explorer who quit her full time job as a pastry chef to travel the world. She has worked with brands such as The Oberoi, Bangalore and is also a certified Yoga instructor from The Yoga Institute, Mumbai.
Where?
Mangrove Bay Camp, Chidambaram, Tamil Nadu
Located in the Cuddalore district, 10-acre campus, situated in north side bank of River Kollidam. Our Campus is a beautiful place tucked away in the serene backwaters of river Kollidam.
Who can attend?
Female above the age of 8 years old
Swimming not mandatory.
Prior Kayaking or Yoga or baking experience not mandatory
Above 6 to 8yrs – 50% percent of fee is waived
What to bring:
Water T-Shirt / Rash Guard, extra set of clothes, towel, Yoga Mat, Leash for your Sunglasses/Power glasses.
Optional – Sunglasses, Sunhat, Waterproof watch, Camera