Norway
October 2019
Our founder Kumaran has just returned from Norway after leading a group of 35 people in different Expeditions in the UNESCO World Heritage listed Fjords, as part of the program, SUP Norway. He is very excited and satisfied that he was able to complete 3 successful expeditions with heavy headwinds and unpredictable weather conditions. He even rescued 2 people while on expedition and he is very complacent about it.,
Kumaran has paddled across big oceans and lakes in India, Sri Lanka and South East Asia. When Titus, Founder of SUP Norway invited Kumaran to lead a few expeditions as part of SUP Norway, he jumped into the opportunity as he has always wanted to do expeditions in western countries and learn a thing or two from the westerners.
It is well known that Norway is one of the most beautiful places to live in the world with its majestic Fjords and sustainable living conditions. The islands are surrounded by breathtaking natural beauty and it is complete bliss to do expeditions in this magnificent place.
Kumaran led 3 expeditions (2 X 5 Day Expeditions and 1 X 2 Day Expedition) in a span of 15 days and their expeditions took a round route from Gudvangen through Odnes and Undredal and then back to Gudvangen where they camped. Participants were from US, UK, Germany and India. They paddled around 10 kms to 15 kms every day and sometimes had lunch on the board itself. Head wind, rain and non-experienced paddlers make the expeditions challenging.
They were completely human powered. They pitched tents to rest, carried power banks, medicines, backup pump and food. Day 2 Camping which was 17 kms from Odnes was very exciting where they paddled at the junction of three Fjords. Day 3 of the 5-Day Expedition was wild camping at Undredal where they could take hot showers and recharge themselves. 'This place is famous for its cheese and mountain goats' Kumaran exclaims.
SUP Norway handles about 15 expeditions every year and When asked what is the basic criteria to paddle, Kumaran says 'Participants should be able to paddle atleast 10 kms in one day, should not weigh more than 100 kg and must have travel insurance.'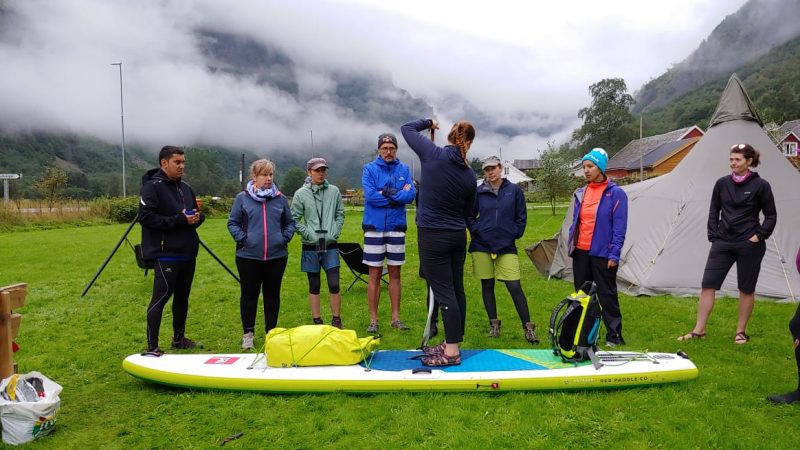 SUP Norway kindled the love of exploring more places for Kumaran and he is all ready to lead more expeditions and save more water bodies as part of his venture – Paddleforfuture.
Kumaran's key takeaway is 'Camping on the land in the Wilderness'.